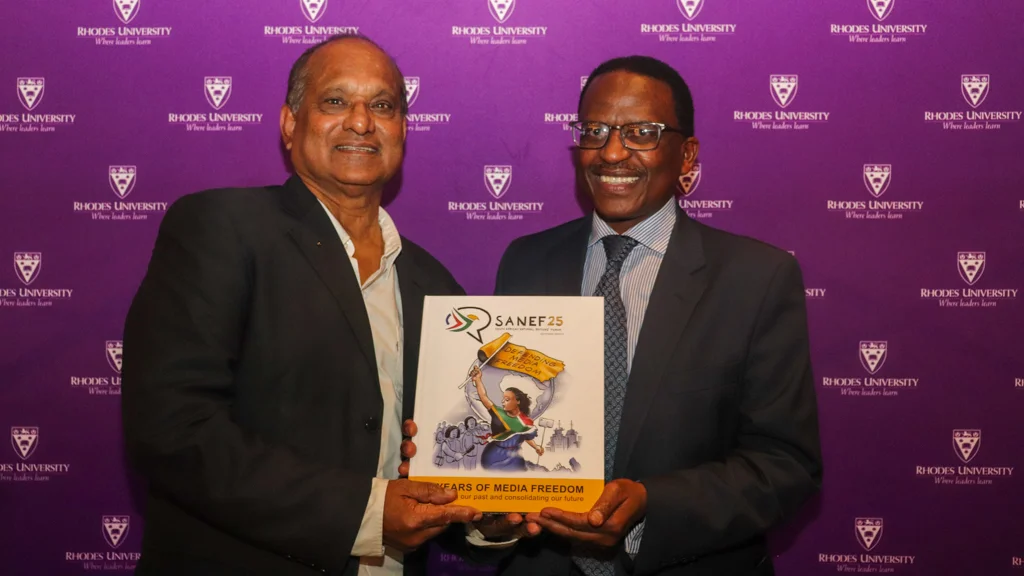 During Rhodes University's reunion cocktail event with its alumni in Durban last night, Vice-Chancellor Professor Sizwe Mabizela made an unprecedented move when he paid homage to South African media. The cocktail was held at Cuba Lounge, Moses Mabhida stadium, to reunite Rhodes University alumni through social engagement. However, in the presence of Durban-based media, Professor Mabizela went off script and called for the protection of media freedom.
"We must never forget the importance of the fourth estate. In our constitutional democracy, we have three arms of government: the legislative arm, the executive, and the judiciary. Alongside those three important arms of government is the fourth estate, with an incredible role to play in deepening our democracy. Media must understand the incredible role they can play in creating a different narrative when reporting what is happening but also equipping our citizens with the knowledge to make this a successful democracy," stated Professor Mabizela.
The Vice-Chancellor did not mince his words when he took a swipe at those undermining media freedom. "We salute bold and courageous journalists, taking on some of the politicians who are trying to bully and silence them. One of these journalists is Karyn Maughan, an excellent legal journalist and graduate of Rhodes University. We should never allow our journalists and media practitioners to be bullied and silenced because that would be the death of our constitutional democracy. We are very proud of our journalists, those who trained at Rhodes University and those who trained elsewhere," added Professor Mabizela.
Professor Mabizela said the media must not be shaken by those trying to censor them. He reminded members of the press that they have an incredible role to play in creating a different narrative when reporting what is happening. He said they should not only focus on the negative news but must report on the pockets of excellence as well. He said they must equip citizens with the knowledge to make South Africa a thriving democracy. Professor Mabizela also called on people to buy newspapers and pay for subscriptions.
"In doing so, not only will we be ensuring the long terms sustainability of our print media, but we will also be supporting the journalists and the media practitioners who work hard to collect stories and present them in an informative way to us. People should not rely on social media because it can be very misleading. We have some of the best journalists in the world; let us support them and ensure that the media houses do not shut down because of a loss in circulation numbers," said Professor Mabizela.
South African National Editors' Forum (SANEF) associate member in KwaZulu-Natal, Marlan Padayachee, handed over SANEF's 25 years of commemoration book to the Vice-Chancellor. According to the SANEF national chairperson, Sbu Ngalwa, the book commemorates SANEF as an organisation that continues to champion South Africa's hard-won freedom of expression and promote quality, ethics, and diversity in the South African media. He said the book is written by founding members of SANEF, respected editors who have led media houses over the years and covered many topics.
Padayachee said the reason behind this gesture was that he believed Rhodes University's School of Journalism and Media Studies is an important stakeholder in the overall history of South African media. "This book should be in the archives of an institution of extraordinary contribution to learning and leadership, such as Rhodes University. The University has produced some of the finest journalists who have played a powerful role in creating the democratic space we all enjoy today," said Padayachee.
Padayachee said SANEF would work closely with Rhodes University in all its missions to better society, right the wrongs of the past and create a new generation of learners, academics, and students. Ukhozi FM sports presenter, reporter and Rhodes University alumna Nolwazi Maci said she was touched by the Vice-Chancellor's tribute to the media because no one cares about the daily challenges faced by the media. "You cannot have a journalist being threatened so that they cannot do their job; that is just wrong. However, you will not read about that, so it is imperative for people like Professor Mabizela to voice their concerns. That gives us hope and courage as the media, and it is heartwarming to hear someone concerned about our work and well-being in general," she said.
Maci added she was pleased with the Vice-Chancellor's report about the developments at her alma mater. "When I heard Rhodes University is building a new space dedicated to nanotechnology innovation, I was pleased. I think it is good that we put aside a sum of money to enable our researchers to come up with new studies because if we keep on working with what we already have, how do we move forward with everything changing in the world? With everything happening globally, we should not leave academia behind. And I feel Rhodes University is on the right track as a leader in research," she concluded.
In commemorating its 50th anniversary in 2022, Rhodes University's School of Journalism and Media Studies is honouring 50 of its most distinguished alumni across the globe. Seventeen alumni were recently honoured at a Gala dinner in Makhanda and Cape Town by the Vice-Chancellor, Professor Mabizela.