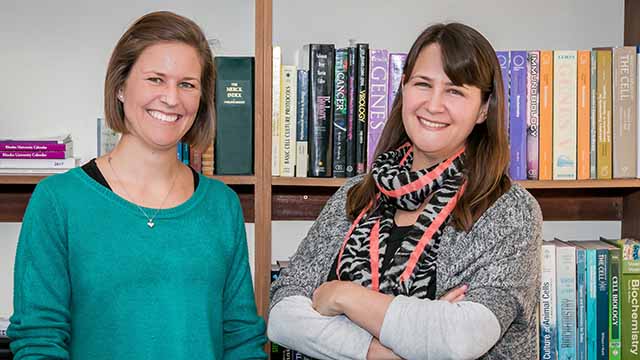 Rhodes > Latest News
Rhodes University women in science honoured
Date Released:
Wed, 12 September 2018 08:26 +0200
By Nokwanda Dlamini, Bachelor of Journalism and Media studies 4 student
The Rhodes University community celebrates the achievements of two women in science - Professor Adrienne Edkins and her Masters student, Ms Kelly Schwarz.
At the SA Women in Science Awards (SAWiSA) gala dinner in Polokwane in August, Prof Edkins was named as the SAWiSA Distinguished Young Scientist in the Natural and Engineering Sciences winner, and Ms Schwarz received a SAWiSA DST Albertina Sisulu fellowship.
Schwarz has always loved science – from forensics to how the human heart functions. Having started her undergraduate studies with a range of BSc subjects, she finally settled on biochemistry and molecular biology. "I became fascinated with how the human body functions at the cellular level," she said.
Schwarz's favourite quote is, "Science never solves a problem without creating ten more." by George Bernard Shaw. She surrounds herself with other scientists who have a clear passion for what they do as a source of inspiration. Regarding the role of women in science, Schwarz sees science as a male-dominated field. "This can be intimidating for women who want to follow a career in science," she said. She believes women in science have the power to act as outstanding role models by demonstrating their success, despite the gender-based difficulties they may encounter.
Schwarz plans to use her fellowship to visit a national or international laboratory which offers expertise in yeast cell culture to help her implement a yeast expression system in her research project.
Prof Edkins, who has been Schwarz's supervisor since her Honours, is the Director of the Biomedical Biotechnology Research Unit (BioBRU), which researches how cells cope with stress at a molecular level.
"Organisms are made up of many cells, and the ability of these cells to deal with stress is essential for the survival of the organism," Prof Edkins explained.
The research group studies stress responses in healthy and diseased states and use a range of biochemical, molecular and cellular biology and bioinformatics techniques to address their research questions.
Although Prof Edkins focuses primarily on postgraduate students, she also teaches a short course on cancer and gene therapy to Biochemistry third-years. Before obtaining the DST/NRF SARChI in Molecular and Cellular Biology of the Eukaryotic Stress Response, she taught second-, third-, and Honours-level Biochemistry, as well as first-year Cell Biology.
She has mentored five postdoctoral fellows and trained 12 PhD and 27 MSc students. Her research group is composed of 15 PhDs, six MSc and three Honours students.
Although Prof Edkins feels honoured to receive the SAWiSA award, she doesn't see it as a personal award. "I would not have been able to achieve this honour without my research group," she said.
Prof Edkins intends to continue her group research, increase the research's impact, and to recruit new postgraduates to Rhodes University. "I also plan to continue our engagement with the wider community in events like the Science Expo, SciFest and to increase our publication engagement in science media," she concluded.
Source:Communications