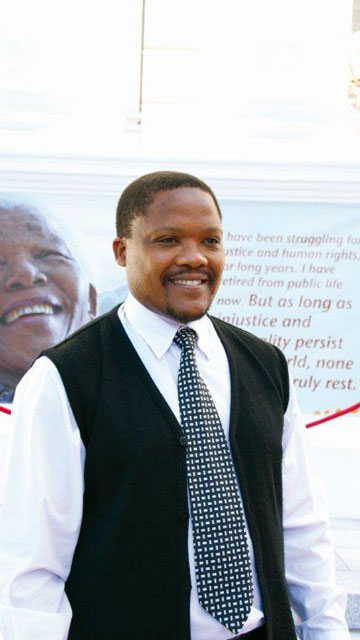 Rhodes > Latest News
Rhodes Welcomes new Director for Communications & Advancement
Date Released:
Tue, 31 January 2017 12:04 +0200
Having joined Rhodes University as the new Director for Communications and Advancement, former Parliamentary spokesman, Luzuko Jacobs has hit the ground running. "I have accepted my role in this institution fully aware of the multi-pronged challenge. Our Directorate occupies a vital and extremely strategic position in the institution. We need to appreciate this, both in word and in deed. There is no entity of the Division which can succeed on its own. The Division is not reducible to the sum of its parts," Jacobs said.
He added that "we will need to constitute ourselves into team of composite professionals in discharging our major responsibility to the leadership of the university, the university community, the community of Grahamstown, our alumni, our funders and society in general. I will need all hands on deck."
The entwinement that the Former Vice-Chancellor Dr Saleem Badat and current Vice-Chancellor, Dr Sizwe Mabizela have forged between the University and the Grahamstown community is what excites him the most about Rhodes. "I have bought into Dr Mabizela's 10-point vision that he articulated in his inaugural speech and I think everyone should read it to migrate into the vision that he has articulated for both Rhodes as an intellectual space and the link with the Grahamstown community where there are no boundaries between the two".
Born and bred in Seymour in the Eastern Cape, Jacobs studied for his undergraduate and Honours degrees at Fort Hare in Alice. He then completed his Master's degree in Journalism at Rhodes where he graduated cum laude in 2000. He has always known that he wanted to be in the academic space and the opportunity to come back to Grahamstown has also presented him with an opportunity to study towards his PhD. Although he says he is deferring his PhD dream for another year while he settles into his new position, he is looking forward to commencing his studies next year.
The father of three says that he has always known that he would come back to Grahamstown to engage in his studies so that he could invest in the human capital of the province. "I am saddened by how the Eastern Cape has been projected and this has largely been due to the lack of human capital. This province has contributed so much to the country but this has been at the expense of itself."
"A lot has changed since I was last here. There has been a lot of developments on campus. I went to the library the other day and I could hardly recognise the building that stood where the old library used to be," he said.
What he finds particularly disconcerting is the fact that the infrastructure around the city has deteriorated a great deal. He hopes that the partnerships between Grahamstown and the University will come up with creative solutions to make some improvements to it.
With over 20 years of experience in the communications field, Jacobs says that he does not have a set leadership style "as situations rarely ever present the same solutions. They call for dynamism and adaptability of leadership. I strive to inspire, demonstrate and lead by example. I am a hands-on leader and like to allow people to flourish and grow."
As Jacobs settles into the Grahamstown community, the avid reader hopes to resuscitate his love for running, football and fly fishing.
Issued by the Communications and Advancement Division
Source:Communications