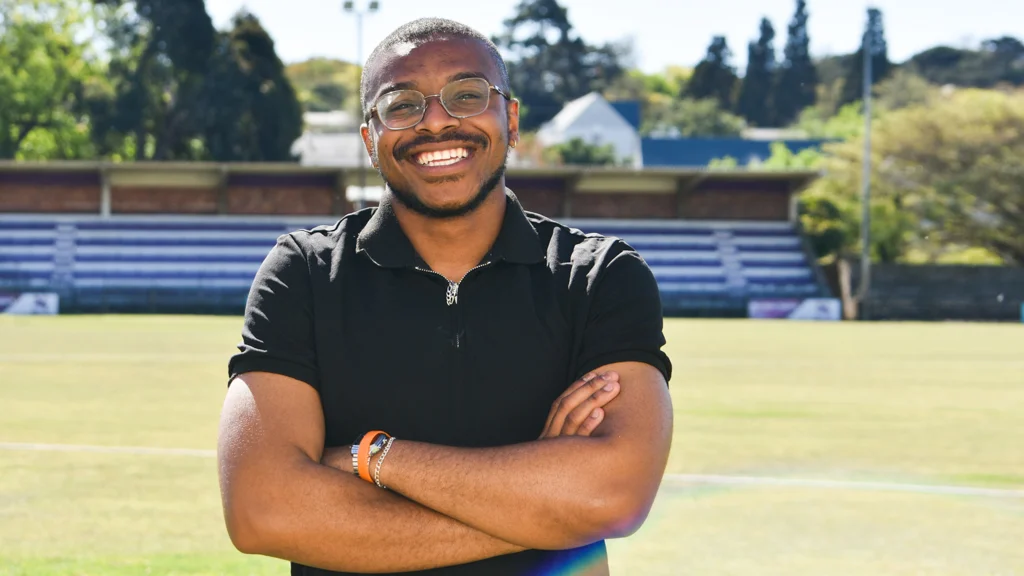 By Ephreeda Banda
Rhodes University 2023 Student Representative Council (SRC) Sports and Societies Councillor, Buhle Luthuli, has been selected as the 2023 ambassador of the International University Sports Federation (FISU).
FISU was founded in 1949 with its key driver to expand the role and reach of university sport worldwide. The FISU games are the largest global sports events for student-athletes. They are held every two years in different cities around the world, bringing together athletes from over 150 countries and have a programme that includes over 25 sporting codes. The Federation believes that sports values and sports practise work in perfect synchronicity with one's university studies. They offer opportunity and inspiration to students around the world to play sport. FISU's motto is "excellence in mind and body".
Luthuli said his selection underscores Rhodes University's dedication to promoting sports and fostering international cooperation. He said his journey towards becoming an international sports ambassador began at Rhodes University. He joined the institution with a passion for sports and a desire to contribute to the vibrant campus community. His enthusiasm and leadership qualities soon caught the attention of his peers and university officials, leading to his election as the 2023 SRC Sports and Societies Councillor and the University Sports South Africa representative.
"My love for sports has been constant throughout my life, though I cannot quite pinpoint where or how it all started. Whether it is watching football games on our small box TV with my brothers at home or sneaking into the common room during my time at boarding school, sport has played a significant role in my life. I am a passionate cricket fan and once dreamed of becoming a Protea player. I have a deep appreciation for football and have been captivated by the media coverage of sports in the United States of America, particularly the NBA and the NFL", said Luthuli.
Luthuli follows in the footsteps of former SRC President, Katlego Mphahlele, who was the FISU ambassador in 2021. As the SRC Sports and Societies Councillor, Luthuli quickly proved himself a visionary leader. He worked tirelessly to enhance the sporting culture at Rhodes University, ensuring that all students have access to a wide range of sports and recreational activities. His initiatives focused on improving physical fitness and promoting teamwork, discipline, and a sense of belonging among the student body.
His dedication to sports caught the attention of FISU, something he described as a privilege.
As an ambassador for FISU, Buhle Luthuli's primary role will be to foster international cooperation and collaboration among universities and educational institutions worldwide. He will work towards creating opportunities for students to engage in international sporting events, promoting cultural exchange, and emphasising the importance of physical fitness and mental well-being among students across the globe.
The role of Luthuli will be a direct link between FISU and the students. He said his involvement should motivate the University to invest and support sports on campus, especially after the University was triumphant at the recent Intervarsity tournament. "As a FISU Student Ambassador, I have the privilege of playing a pivotal role in addressing the challenges faced by different sports codes at Rhodes University. I will also work to maximise the opportunities available to university student-athletes and sports enthusiasts in South Africa. Collaboration with other universities, sports organisations, and community stakeholders will drive positive change and nurture a vibrant sports culture. Together, we can create a more inclusive, resourceful, and mentally resilient environment for all participants in South African sports," added Luthuli.
The 23-year-old Midrand-born encouraged students to follow their dreams and work hard to realise them. "Believing in yourself is your greatest asset, your compass in the leadership journey. You have the power to achieve anything you set your mind to, and you absolutely deserve to occupy the spaces you aspire to be in. Think about the incredible opportunity we had to welcome the former Miss Universe, Zozibini Tunzi, to our campus this year. She reminded us that, as young student leaders, we must boldly take up space in everything we do. You are meant to be seen, heard, and valued," encouraged Luthuli.
Rhodes University Sports Manager, Frans Mamabolo, congratulated Luthuli and said: "This is the highest honour for student athletes to be selected for such a programme. We have set goals to develop and capacitate our future leaders through sports, and we are happy to see our students use such an opportunity."