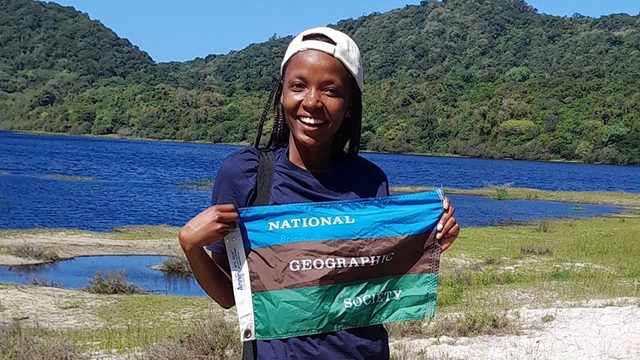 By Anda Mtshintsho
In the hopes of combining her passions for conservation, Indigenous storytelling and cinematography, PhD Candidate and Student Representative Council (SRC) Vice-President Putuma Balintulo fulfils her dream as a fellow at the Nature, Environment and Wildlife Filmmakers (NEWF).
NEWF is a South African organisation that promotes nature and wildlife conservation through filmmaking. They partnered with the National Geographic Society to present its annual summit and congress earlier this year. The events aimed to bring storytellers, filmmakers, scientists, conservationists and broadcast media from all over Africa to engage in conservation topics critically. This year's theme was "Africa Refocused", and it focused on shifting the narrative, where young minds of Africa get to tell stories about their continent from their own perspective.
Balintulo got involved with the organisation in June 2022 when she signed up for the conservation symposium that was going to be held in Scottburgh, KwaZulu Natal. Through the symposium's mailing list, she received an email that NEWF is calling for scientists who are storytellers and are interested in developing their stories. She said, "As a person who's been interested in the film and television industry since childhood and grew up to be an environmental scientist, this was an opportunity to link the two." She was selected as one of the six applicants who made it through.
She then started attending online classes where they were taught how to write and produce stories. She said the classes helped her immensely because she had not known how to operate one.
She said she wanted to become part of the programme because of her academic background and upbringing, and she hoped to communicate her research findings to the layperson. "Most of the time, my supervisors would ask me to explain my research as if I am talking to my grandmother," she explained.
Balintulo said she was attracted by the idea that the organisation, through this programme, is advocating for Indigenous knowledge systems empowering, which is what her PhD focuses on.
She said, "As someone who's grown up watching wildlife films and programmes such as 50/50, I've always been curious about why we learn those things from the Western perspective. Why have we never learned about wildlife, nature and the environment from the Indigenous view while growing up?"
The film Balintulo worked on is about lead poisoning of the Nile crocodile in the estuaries of St Lucia, KwaZulu Natal. This came after seeing the crocodiles' health deteriorating. A toxicology analysis revealed excessive lead in the crocodiles' bloodstreams. They focused on investigating the possible causes through stakeholder collaboration with local fishermen. They did this by employing an Indigenous knowledge systems storytelling approach.
She described her experience working with NEWF. "It was amazing. It kept me engaged and constantly on my toes. It allowed me to tap into my scientist and conservation, storytelling, science communication and social activism sides," she said.
Balintulo also explained that this opportunity greatly benefits her career because it offers endless possibilities. "There are just so many prospects in front of me right now. I have the confidence that wherever I knock, one of these doors will lead me to the Putuma I want to be," she concluded.