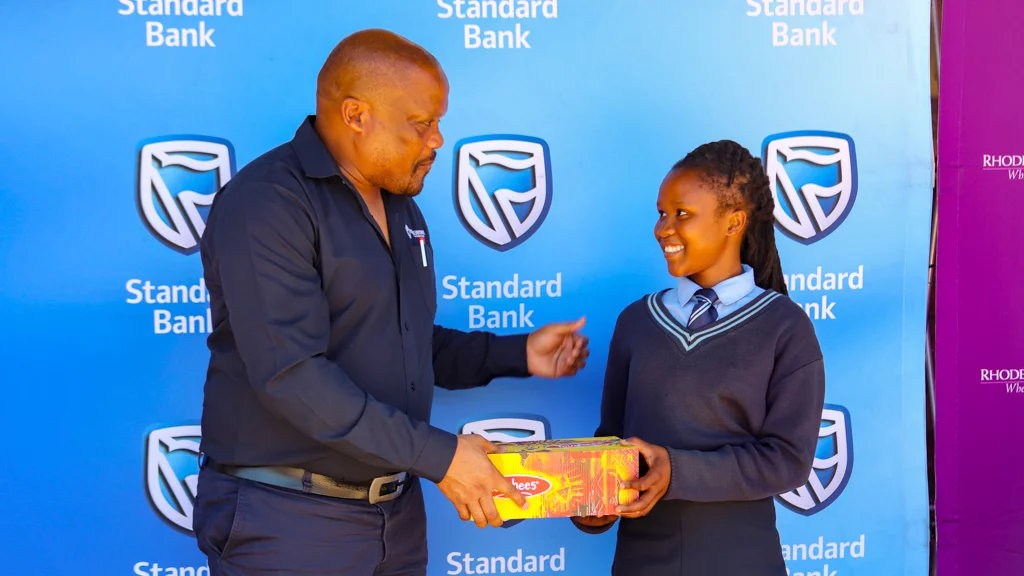 It was smiles and jubilation at Khutliso Daniels Secondary School yesterday when 135 learners received new school shoes from Standard Bank Tutuwa Community Foundation and Bata Shoes. This results from a fruitful partnership between Standard Bank and Rhodes University Community Engagement (RUCE).
Khutliso Daniels Secondary School community which includes leaners, teachers, Student Governing Body members and parents, assembled at the school to witness the generous donation. Rhodes University Director of Communications and Advancement, Dr Luzuko Jacobs, was the day's guest speaker.
He shared with learners how he used to go to school barefoot. "I used to wear my father's old shoes that I tied up with wires. I know what it means to struggle, to go hungry for days. I am a beneficiary of the generosity of others in many ways," he said.
Dr Jacobs described the donation as an 'act of investing in the future'. "Standard Bank and Bata know that the future has to be constructed today. They know that the alternatives are too gruesome to contemplate for businesses, families, communities, society and the country. However, their investment is futile without the leaners' active participation to complement it," he said.
Khutliso Daniels Principal, Radio Mcuba said the donation would greatly benefit the school. He said: "Our school is a no-fee school, meaning almost 100% of the parents live on a government grant. This is a wonderful response from Standard Bank and Bata to plough back to these poor learners. Our school is on a positive trajectory, and this donation will add to that. These shoes will help us curb absenteeism, especially in winter. We wish to express our heartfelt gratitude to all the stakeholders involved."
The Chairperson of the Representative Council of Learners at Khutliso Daniels, Khanya Mdoko, said the shoes "would bring back pride and confidence to the learners". She said the gesture had a positive psychological effect on the learners.
RUCE Director Di Hornby said the partnership between the University and Standard Bank started three years ago to assist and support learners from early childhood to post-schooling through to University. She attributed the school's positive grade 12 results to how the school has embraced community partnerships.
"Their matric results have gone from 55% three years ago to an 89.9% pass rate. That is phenomenal and does not happen for a school that has not embraced the community and the partners to build up the school."