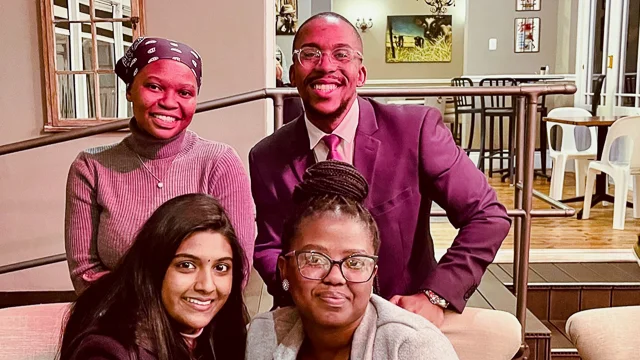 By Dingaan Booi
Rhodes University has well-established mobility programmes with Pädagogische Hochschule PHBern and Pädagogische Hochschule Luzern in Switzerland. The programme allows Swiss Education students to spend six months to a year at Rhodes University on a credit-bearing study abroad experience. In return, Rhodes University Bachelor of Education degree (BEd) and Postgraduate Certificate in Education (PGCE) students get the opportunity to do a component of their teaching practice in Switzerland.
Dr Kavish Jawahar, Head of Department for Secondary and Post-School Education at Rhodes University, explained: "Globalisation and internationalisation have important implications for education. While needing to be locally relevant, many recognise that education also needs to prepare students as global citizens. Exchange programmes, such as the South African-Swiss exchange programme in the Education Department at Rhodes University, provide a rich opportunity for international school education interactions."
"Because of COVID-related uncertainties, the programmes were suspended in 2020 and only resumed at the start of 2022, when we had the full return of all students to campus. It is hard to believe that the first group of Swiss semester-abroad students, who arrived at the start of the 2022 academic year, are already writing their exams this week, and preparing to return to Switzerland afterwards. The results of these exams will count towards their degrees back home," explained Ms Orla Quinlan, Director of Internationalisation at Rhodes University.
Before exams got underway, the Rhodes University International Office hosted an exchange programme debriefing and induction event. This event facilitated a structured conversational process and gave the Swiss inbound exchange students, currently visiting Rhodes University, and the South African exchange students planning on travelling to Switzerland, the opportunity to provide feedback and learn from seasoned and travelled staff within the International Office, members of the team within the Education Faculty and programme coordinators, as well as alumni of the Teacher Education Swiss Exchange Programme, who have graduated and are now teaching in local schools in Makhanda. The event has further significance in that this was the first of its kind since international mobility was suspended, due to the onset of the COVID-19 pandemic in 2022.
Swiss students shared their experiences of their time at Rhodes University and in South Africa and expressed disappointment at having to return home so soon.
One of the swiss exchange students, Silja Klopfenstein summed up her experience as follows: "My time in South Africa was everything I hoped for and more. We were greeted so warmly by everyone and were never left alone when we had a question. I really liked my method lectures; the teachers were competent and supported us if we had any problems. I really enjoyed it here and looking forward to coming back one day."
Barbara Huber, another exchange student enthused: "I enjoyed studying at Rhodes University because the relationship between students and lecturers is based on kindness and understanding. South Africa is a good place to stay because you have a mix of beautiful places, wildlife, cultural diversity and interesting history. All in all, it was the best time of my university career and I would definitely come to Rhodes University again."
Later this year, a group of Rhodes University South African BEd and PGCE students will be the first to go abroad on an official exchange since the onset of the pandemic. Topics covered during the induction event included what to expect going through immigration and other tips for international travel, recognising and dealing with culture shock, acclimatisation to new environments including practical tips on the clothing required for cold climates and methods for coping with adversity in a foreign environment.
Shivali Sirkar, a Rhodes University exchange student, said: "In my interaction with them, I understood the eagerness and adaptability of the Swiss students. Even though they have experienced a few difficulties living on campus and in the residences, they had adapted to the South African environment and were surprised to see the hospitality and friendly nature of the people. They have generously taken to the diversity and are taking back many adventurous experiences. They have given me a new lens to make my upcoming journey exciting and easier to navigate through."
Asive Swazi, another outbound exchange student, said: "What a wonderful event! It provided the platform for me to officially meet other outgoing students like myself for the first time, as well as to get to know the Swiss students who shed some very insightful know-how and details on what I should do to best prepare myself for the experience. I look forward to breaking out of my comfort zone by immersing myself in any Swiss community I am located in. More importantly, to observe how the Swiss approach their teaching and learning; their ideologies and philosophies to teaching; how they cater for the needs of the learners in a classroom and see how best I could extract some skills and techniques from their system that I could add to my teaching arsenal as a South African educator. There is a reason why they're considered to be one of the best globally, and my job is to learn from the experience as much as I possibly can!"
Finally, Liselihle Kanana, a 3rd-year BEd student commented: "The debrief and induction event was very helpful for me, as it enlightened me on a lot of things and answered many of my questions. My overall aspiration is to become the best teacher my learners will have once I start teaching. I aspire to get to learn new ways of teaching and learning. I aspire to grow in my profession and as an individual. I aspire to gain cultural awareness as this will assist me in my interactions with people throughout my life and will improve my social skills. I aspire to go there and be an ambassador for South Africa and Rhodes University. Lastly, I aspire to gain knowledge and experiences that will greatly benefit the education system of South Africa, and which will open more opportunities for me as an individual."