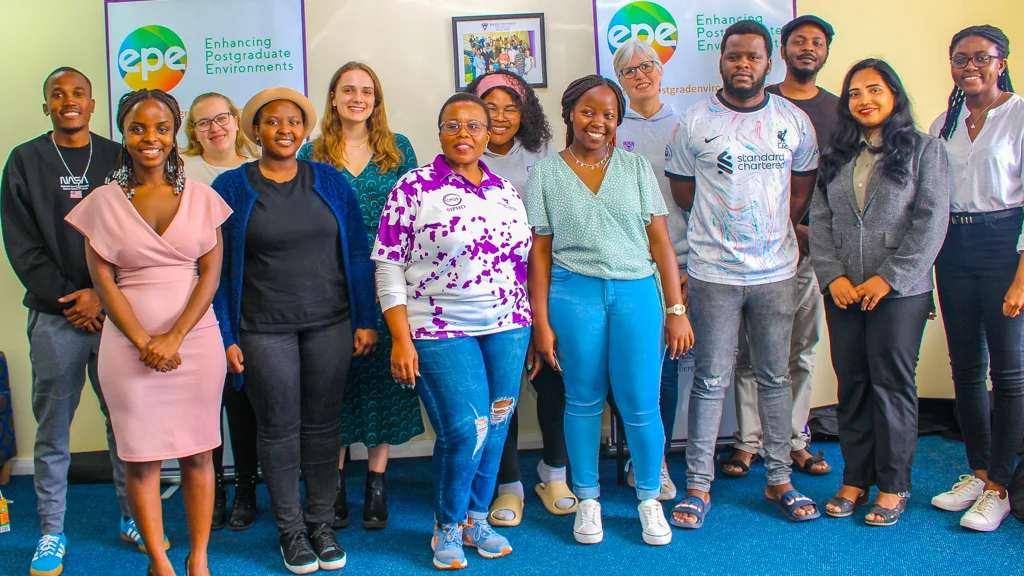 By Sam van Heerden
Writing a thesis is tough, but as many students can attest, explaining it to the world can be just as difficult. Last week, the Centre for Postgraduate Studies (CPGS) hosted an awards ceremony for its internal #3MinuteThesis (#3MT) competition. This challenges students to explain their postgraduate thesis in just a three-minute video and a language accessible to the wider public. Twenty postgraduate students, whose research ranges from educational storybooks to cancer treatments, were awarded prizes for taking their knowledge from the labs to everyday people.
"People like you are doing valuable research, and we want to build your confidence] to help others solve problems in the world," said the Director of the CPGS, Professor Sioux McKenna, to the students at the ceremony. "We want to show that researchers can participate in knowledge-making for people and the planet, and we can't do that if we only talk to ourselves. If we research, speak to each other about it, and build our own fields but never explain it to the public, then we actually have not done our full duty," she added.
The #3MT is an annual international competition held by hundreds of universities worldwide. This was the third year Rhodes University took part, starting in 2020 when the CPGS could not host their annual conference due to Covid-19 restrictions.
Both Master's and PhD candidates at Rhodes University could sign up for the challenge, and the CPGS team, Deans, and DVCs helped to pick two PhD candidates to represent the University nationally. These were Mary-Anne Hood, a PhD candidate in Education whose video was titled, 'Where I am in the picture(book?', and Chipo Mungenge, a PhD candidate in Zoology and Entomology whose video was titled, 'Increasing salinisation effects on crustacean hatching success in semi-arid wetland pan systems'.
With tons of colorful and engaging video entries and enthusiastic student interest, the CPGS chose the Top 20 videos and published them on their YouTube channel. It was these Top 20 candidates who were awarded at the ceremony with various cash vouchers. In first place was Chemistry PhD student Lindokuhle Nene, whose video was titled 'The power of sound for cancer treatment'.
Hood took third place overall, and in second place was Emma Wagenaar, whose research looked at neuroimaging using near infra-red light. Her video title was 'Let There Be Light... and Make it Work!'. She entered the competition to gain experience in talking about her research with those unfamiliar with her field, "I love talking about research and being in academic spaces, and I thought it would be a good way to practise that," she said.
A special category was also included to note those who expanded the horizons of citizens, as evidenced by likes, comments, and engagement on their video, called 'the popular vote' category. The first-place winner of this award, with 362 'likes' and 198 comments on her video, was Computer Science PhD candidate Malithi Da Silva. The video was titled 'Something to eat for everyone: A computer vision model for early plant disease detection.'
Her research uses virtual and deep learning technologies to find plant diseases before they show visible symptoms. Da Silva, who hails from Sri Lanka and has only been in the country for three months, wanted to see what the #3MT was about.
Much useful and insightful knowledge created at universities never makes it out of small academic networks. Professor McKenna emphasised the need to change this and to share this knowledge more broadly. She encouraged the winners to consider publishing in the public eye: "I urge you to think about writing a newspaper article on your research for the general public. This is a really important role [for us as researchers] in the country."
Professor McKenna mentioned that the CPGS offers a course every year in collaboration with The Conversation, to teach researchers to share their ideas in a way that is engaging and understandable to people. She also said they are looking to enter some Rhodes University students into the British #3MT competition early next year, which is open to international candidates.