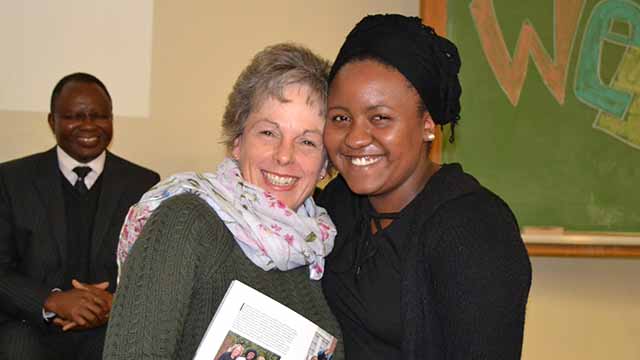 Rhodes > Latest News
Tell us your best teacher stories for World Teacher's Day!
Date Released:
Fri, 5 October 2018 10:08 +0200
In celebration of International Teachers Day on 5 October, the Rhodes University Education Department is calling for story submissions in honour of teachers everywhere.
World Teachers' Day, as it is also known, has been held yearly since its inception in 1994, to commemorate the signing of the 1966 UNESCO/ILO 'Recommendation concerning the Status of Teachers'. For Teachers Day 2018, the UNESCO adopted the theme: "The right to education means the right to a qualified teacher", in celebration of the 70th anniversary of the Universal Declaration of Human Rights (1948). The day is meant to serves as a reminder that the right to education cannot be realised without trained and qualified teachers.
The UNESCO encourages everyone to generate awareness about teacher issues and to help ensure teacher respect is part of the natural order of things. In support of this, the Education Department has decided to open up submissions for its My Best Teacher publication to anyone, and not only its BEd Foundation Phase students, as was done previously.
"Many people don't even know that World Teachers Day exists," said Associate Professor Callie Grant of the Education Department at Rhodes University. "This is concerning, given that teachers play such an integral part in each and every person's life. Where would any of us be without our teachers? Sure, we all have some teachers we would rather forget, but there are many that positively shaped us into who we are today."
The My Best Teacher project started in 2015, when first-year BEd Foundation Phase students were asked to share positive impact stories of their primary- and secondary-school teachers.
"Against the backdrop of the National Student Protests of 2015, the Rhodes Education Department was conscious of the need to listen to the voices of students. Furthermore, we were cognisant of the fact that it is usually the voices of Foundation Phase teachers that are the most marginalised. Combining these two national issues, we approached our students to write a story about their "best teacher". This is how the booklet was born," Prof Grant explained.
These 2015 Foundation Phase group stories were compiled into a booklet entitled My Best Teacher: A tribute to SA's great teachers from those whose lives they change. It was officially launched in July this year, with several of the student contributors, and the featured teachers and their families in attendance.
At the function, Rhodes University Vice-Chancellor Dr Sizwe Mabizela appealed to the Education Department to extend the project to the larger Grahamstown community.
Currently, there are three subsequent booklets in the My Best Teacher series in various stages of production.
"Teaching is not valued enough as a profession in South Africa," Prof Grant asserted. "If we can increase the value placed on teachers it will inspire more young people to pursue teaching as a career."
Professor Grant and the Rhodes University Education Department would like to invite staff and students to submit their own "best teacher" stories. "Together we can counter the negative descriptions of schools and teachers by presenting stories about those teachers who have made a positive difference to the lives of their learners," Prof Grant urged.
Stories guidelines are as follows:
written in the past tense
no more than 800 words
include a creative title and sub-title
include the name of the teacher, the school, and the writer
include a description of the teacher andplace the school within context
include reasons for why you consider your teacher to be the best teacher, with examples
include an explanation about how this teacher has contributed to who you are today
include a thank-you statement or closing tribute/message
Further inspiration can be derived from following the My Best Teacher link above. Please send your stories to hod.education@ru.ac.za with the subject line: 'My Best Teacher Story'.
Help South Africa commemorate teachers this International Teachers Day.
Source:Communications