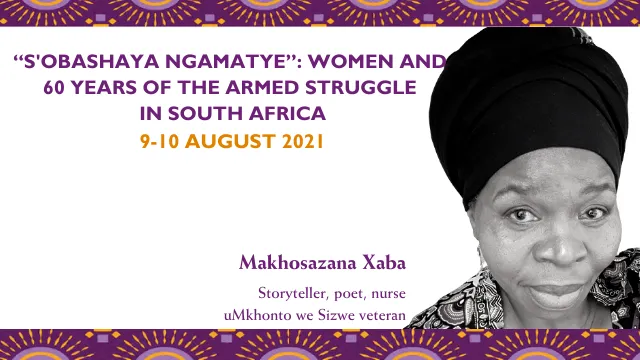 By Julian Yeates, Journalism and Media Studies student
On the morning of 10 August, the multifaceted storyteller, poet, nurse, and uMkhonto we Sizwe veteran, Makhosazana Xaba, orated a moving keynote address.
This took place on the second day of the Women and the Armed Struggle Colloquium, hosted by the Political and International Studies Department at Rhodes University, the Centre for Women and Gender Studies at Nelson Mandela University and the Historical Studies Department at the University of Cape Town.
Mam'Xaba's aim for the address was to illuminate the women who played a vital role in the armed struggle in South Africa, but who have flown under the radar and gone unaccounted for and uncelebrated. This quieter aspect of the armed struggle is often not highlighted, and Mam'Xaba has brought awareness to it through her poetry.
Along with this fight were women who battled the patriarchal society from the comfort of their homes. One such woman, the woman who embodied feminism for Mam'Xaba, was her mother. Mam'Xaba recounted a memory from her youth in which she found her mother sewing a secret bank book into Mam'Xaba's childhood mattress. Her mother managed to open a bank account in her own name, despite only men being allowed to do so at the time. Mam'Xaba explained that her mother kept it hidden from her father as he would drink the money away. Her mother kept this secret for the betterment of her children.
Mam'Xaba shared the lesson she learned from this; "If you don't like something, change it." This is the guiding force for her conception of feminism.
Along her journey of resistance, Mam'Xaba found mother figures in unknown women. Mam'Xaba told the audience about her encounters with women while she fled South Africa during her exile. With tears in her eyes, she recounted the kindness of strangers who fed her and gave her a place to sleep. These women, who she has never met again and would scarcely recognise, embraced her in a time of need. Mam'Xaba explained that the women used their traditional roles of nurturers and caregivers to help indirectly in the armed struggle. These women, "whose voices were never heard" have played a significant role and should be recognised for their contributions, according to Mam'Xaba.
This emotive story mirrors Mam'Xaba's poem Some Stories: Revisited;
"Some stories will never be told [...]

Turn darkness into a friend.

Wear anonymity as a cloak.

Embrace burial as closure."
Mam'Xaba shared a series of poems that highlight the tension between women's unaccounted testimonies and the slow unsealing of lips. Our Wounds, Our Lips is a poem related to the Truth and Reconciliation Commission (TRC) and its mechanism to recognise gender in reporting events after apartheid. Mam'Xaba illustrates in the poem the need for women to heal from their wounds before sharing their stories:
"Years later, our wounds healed, the truth our shield.

We open up to be heard, for us this act will be strengthening.

After all, today many seem to agree that before our wounds healed,

We could not talk and listen. So here we are today: our lips no longer sealed."
Through poetry, Mam'Xaba pays tribute to the unknowable and unnameable women whose stories of sacrifice and resilience in the armed struggle have gone unaccounted for.
Audience members were moved by the stories and poetry readings, with one member remarking that she "felt them in her soul."
A question about how women should unseal their lips was raised. Mam'Xaba replied by reminding the listeners that "silence is a form of waiting for the right time". Once a woman feels comfortable in her story and is committed to the exhaustive healing journey, she will unseal her lips. Through consciousness-raising and breaking stereotypical ideas of quiet femininity, women will be empowered to speak, Mam'Xaba added.
On a final note, Mam'Xaba encouraged audience members to reflect on imaginative storytelling devices so that we may be the scribes for untold stories from unsealed lips.
For this session and more, please find the Colloquium recording here: https://www.youtube.com/playlist?list=PLAztaQ4TBvjSMTxLsZ86nvVCioJemN9e6