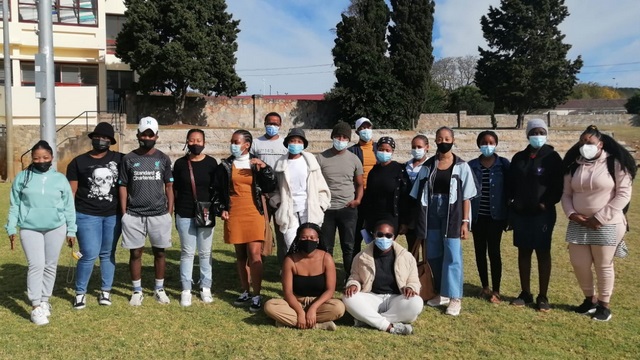 By Lindeka Namba, School of Journalism and Media Studies student
Reabetsoe Buys, a Counselling Psychologist and representative from the Tomorrow Trust, recently spent two days at Rhodes University to check in with the organisation's 19 funded students.
The first day consisted of a series of one-on-one meetings to get feedback on the individual progress and well-being of the students, and the second day was spent on workshops.
The 19 bursary scheme students are in different faculties ranging from Commerce to Pharmacy. Buys, who also coordinated the events over the two days and said she is delighted with the progress she has seen from the group thus far. As the students' sponsor, she explained how Tomorrow Trust is interested in more than just academic success. "We run holistic programmes that support the education and overall development of students," she said. "Our workshops cover a variety of topics such as emotional intelligence, leadership and self-esteem," she added.
The Tomorrow Trust is a non-profit organisation based in South Africa that primarily supports orphaned and vulnerable children with holistic education. Its strategy combines academics and life skills with self-development—thereby empowering young people to reach their full potential as self-sustaining and proactive members of society. Its Tertiary Programme offers bursaries to students completing various degrees at different institutions, including Rhodes University.
The organisation aims to support and help build independent, problem-solving, conscious young adults who will enter the workplace self-reliant and ready to lead a successful life. This is achieved through ongoing support provided by in-house psychologists, and various activities students are exposed to during their time as Tomorrow Trust bursary students. In addition, being part of the Tertiary Programme allows students to commit and invest in their self-development and growth, helping them reach their true full potential both academically and personally.
Current Tomorrow Trust bursary beneficiary and second-year Bachelor of Pharmacy student Londiwe Bhentswana shared her experience of being part of the Rhodes University 2021 chapter. "I feel so honoured to be part of this amazing bursary scheme," she said. "The sessions with Rea are beneficial. Whenever I am experiencing personal difficulties, I know I have someone I can vent to who will also be able to guide me and give me the necessary tools to tackle the challenges I face," she added.
For Postgraduate Diploma in Taxation student, Siphosethu Ntombela, being a Tomorrow Trust bursary beneficiary means having someone to assist you with all the resources you require to be a successful student. "My laptop was not in good condition because I had been using it since 2017. Tomorrow Trust was able to give me an allowance to buy a new laptop, and I found that helpful," said Siphosethu.
To qualify for the tertiary bursary, applicants must be between 18-25 years of age; must be South African citizens; be pursuing an Undergraduate Degree, Honours Degree, or Diploma – Tomorrow Trust does not fund Masters and PhD students. In addition, applicants must also be pursuing a qualification or intending to pursue a qualification at one of the following institutions: University of the Witwatersrand, University of Johannesburg, Stellenbosch University, University of Cape Town, Rhodes University, and University of Pretoria.
Although applications for the 2022 intake are currently closed, potential applicants can head over to their website to get more details on applying for the next intake. For more information on how to apply, please visit: https://tomorrow.org.za/what-we-do/tertiary-programme/