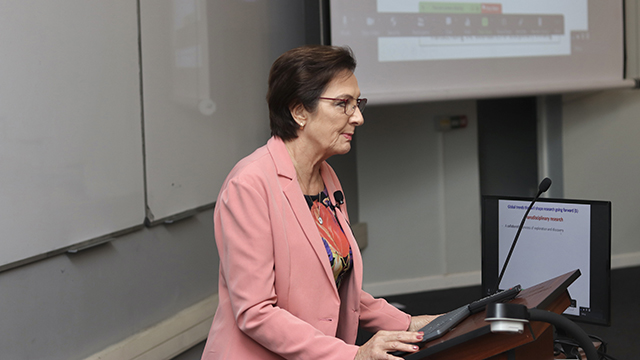 By Ntikana Ramohlale
Last week, the Department of Biochemistry and Microbiology at Rhodes University held a talk under the theme: "Transdisciplinary research, sustainability, data and ethics - global trends shaping the future of academic research" with alumna Professor Stephanie Burton at the Biosciences Building.
Prof Burton holds a PhD in Biochemistry from Rhodes University and is a Professor at Future Africa at the University of Pretoria, as well as the immediate past Vice-Principal for Research and Postgraduate Education at the same university.
Explaining what transdisciplinary research meant within the context of biosciences, Prof Burton said: "It is really about transcending the barriers between disciplines." This form of research, as she explained, aims to bring together a broader set of stakeholders, including experts from an array of industries, such as policymakers, knowledge makers and academics, to name a few.
Prof Burton stressed that transdisciplinary research is particularly important in a country such as South Africa, where the scourge of inequality continues to render a need for intensive transdisciplinary research to help bring feasible solutions to the most prevalent societal issues.
She explained that because 'impact' is a key currency in academia, transdisciplinary researchers should aspire towards that goal through a clear 'demonstration of the public good' embodied in this research mode. Prof Burton urged the audience not to view transdisciplinary research as a science in itself but broadly as a 'methodology of doing science with society'. She further explained that this places a duty upon scientists and researchers to change how they usually operate to make the objects of their research endeavours beneficial for the community.
She said that such benefits might be given effect through contributing to the national skills pool, urging students to accept social responsibility by translating research to make it more accessible to the communities they are researching.
Professor Burton emphasised the importance of maintaining the global agenda of sustainability as people engage in transdisciplinary research. She highlighted the relevance of sustainability in light of the rapid emergence of technology and digitisation across the globe and how transdisciplinary research may fit into that reality.
Africa should take advantage of this technology to cater for the millions of people who are seeking to create employment for themselves using various technological avenues, Prof Burton remarked. She stated that transdisciplinary research would become increasingly necessary as various avenues of technology continue to intertwine.
However, she cautioned that transdisciplinary researchers should prioritise concerns surrounding the protection of data they acquire or collect during their research. "It comes down to sound research data management," Prof Burton explained, stating that data management in line with values of privacy and respect needs to be exercised and its availability for public scrutiny ensured. "So you need to ensure that your data is protected but discoverable," The professor added.
Prof Burton discussed the importance of ethical considerations surrounding transdisciplinary research. "Ethics is the medium through which we decide what the right thing is to do," she explained.
Although there are various complexities surrounding the moral dilemmas that researchers continue to face in transdisciplinary research and other modes of research, they should always ground themselves in the responsibility they have for the welfare of the people they work with at all times, Prof Burton concluded.
Source: Communications