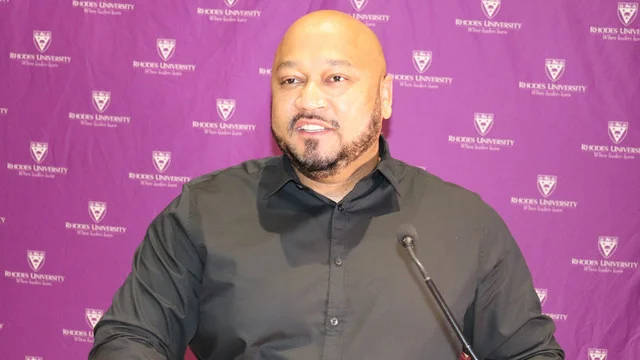 By Karabo Dikobe, BJourn student
Starting on Tuesday, 19 October 2021, Rhodes University Community Engagement (RUCE) Division hosted the 5th annual Community Engagement Symposium under the theme 'The role of Community Engagement in the reimagination of Higher Education during and post the Covid 19 pandemic'.
This year's symposium was hosted in partnership with the Durban University of Technology, which marked the third year since the two institutions collaborated in the symposium. The three-day blended symposium took place virtually and 'in person at the Amazwi South African Museum of Literature.
Rhodes University Vice-Chancellor Dr Sizwe Mabizela officially opened and welcomed guests to the symposium. In his welcoming, Dr Mabizela began by quoting the former Vice-Chancellor of Newcastle University, Chris Brink, who asked. "What are we [Higher Education Institutions (HEIs)] good for?". He said HEIs must figure out what they are good for to improve their contributions to society. "These institutions exist and were created for the public good. It is, therefore, vital for them to embed themselves with the immediate external community by building mutually beneficial, reciprocal and knowledge-driven relationships. Community engagement can act as a vessel for building and nurturing these relationships. It also cultivates graduates prepared for an unknown future, which will strengthen and deepen values such as humanity, compassion, and inclusivity. It is imperative that HEIs partner up with their immediate external communities to find mutually beneficial solutions through shared knowledge learnt in these communities," said Dr Mabizela.
Reputable broadcaster, philosopher, journalist and Rhodes University alumnus Eusebius McKaiser delivered a keynote address on the first day. He set out what he felt was the criteria that ensured successful community engagement. "Since academic freedom is not an absolute right, it is crucial that HEIs accept public scrutiny. Institutions like Rhodes University are a part of the community because of where it is geographically located and is the number one employer of this community. It is therefore important to do things with the community. We need to be conscious of what is being taught, who is being taught and what is being researched with these communities," he said.
McKaiser urged the academics in HEIs to challenge themselves ethically and be held accountable for their contributions to the community. He said: "Ways to measure community engagement, and its impact need to be implemented. The community needs to be viewed as a source of knowledge in its own right. Optimal conditions for learning need to be cultivated. Comfortable discomfort needs to be nurtured so that no one should feel 'at home' in these institutions. What this can do is encourage disagreement and disruption, which results in all the stakeholders of these HEIs becoming learners," McKaiser added.
Centre for Postgraduate Studies (CPGS) Director, Professor Sioux McKenna spoke under the theme 'knowledge and engaged research'. She illustrated the connection between research and community engagement by emphasising and explaining the characteristics of engaged research. She explained how the research topics, the research methodology, and the researcher could ensure that HEIs serve the public good rather than the public bad.
Post-doctoral fellow at Rhodes University in the Center for Higher Education Research Teaching and Learning (CHERTL), Evelyn Muthama followed, virtually as well. She spoke about how community engagement can assist HEIs in reimagining their identities and purposes. Rhodes University Master's student Sesonasipho Yedwa discussed Ukucingisisa (careful and thorough consideration) as an essential measure to implement in South Africa. She said this could assist HEIs in advocating for sustainable social justice through community engagement. "Universities can no longer be bystanders; they need to step up and prove their worth. This can be done by utilising resources, the research being done, and the available scholarships as well as the curriculum being taught," she said.
Day one ended with a workshop discussing the hybrid model to conduct community engagement by looking at the methodologies, the resources required to achieve this hybrid model, the potential challenges and risks involved, and possible mitigation strategies. It was followed by a final keynote address from Professor Budd Hall of the University of Victoria and the Co-chair of the Unesco Chair in Community Based Research and Social Responsibility. He spoke to Knowledge Democracy, Decolonisation and Epistemicide. Professor Hall urged South Africans to note the leverage they have with implementing and creating knowledge equality. "Since knowledge is passed through languages, it is vital to give visibility to indigenous knowledge systems and languages. Especially considering that 95% of knowledge is not created in HEIs," he concluded.
Source: Communications