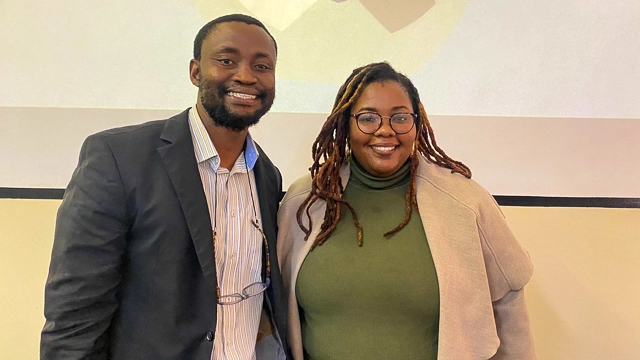 By Cebokazi Duze
On 12 August 2022, Nombulelo Gongqa, a Rhodes University alumna and the current Director of Organisational Change/Transformation at Diocesan School for Girls (DSG), hosted a conversation titled "Work of the Heart" for the postgraduates of the Organisational Development course at Rhodes University.
Gongqa was born and bred in Makhanda and matriculated from DSG on a scholarship. She obtained her Honours in Organisational Psychology, Industrial Sociology, and Politics at Rhodes University. While completing her Social Science Master's in Industrial Sociology, she worked at Accenture, a leading global professional services company, providing a broad range of services and solutions in strategy, consulting, digital, technology, and operations.
The postgraduate conversation was facilitated by Sandiso Bazana, a Lecturer in Organisational Psychology at Rhodes University. During the discussion, Gongqa spoke of her experience as an Organisational Development Psychologist at Accenture and DSG.
She believes that the value system of a place is fundamental as it has to do with mental health. Although the value system of a place is fundamental, she said being compensated for the services you provide is also essential. However, she does note that not everyone has the luxury of only looking at the value system of a place when looking for a job. This conversation was held to give insight to the students entering the workplace as organisational psychologists.
Gongqa refers to her work as an organisational psychologist as "work of the heart" because she believes organisational change is as institutional as the heart is because a company's productivity depends on the employees' hearts – whether or not their hearts are in it.
At Accenture, she worked as a talent and organisation analyst. Her main focus was digital transformation. Her job taught her change management and how to reach people's hearts. "No matter how well you think institutionally, the people within the institution hold the hearts, the decisions, and where the institution will go. The individuals within these institutions will drive the discussion for change," she said.
Gongqa started working at DSG in 2020, and she attributes the work she does currently as the Director of Organisational Change/Transformation at DSG to her time at Accenture. In this case, she has found that change management is not what she knows or wants it to be. This is because she keeps re-visiting the students' most important topics. "I might start to address issues of racism, but the students might feel that body image is the most pressing issue," she explained.
As an organisational psychologist, you must go back to these conversations. She said, "You owe it to yourself as the practitioner and the people to have this mindset that we can learn and continuously go back."
In her line of work, she deals with inclusivity which she refers to as people being introduced into a new space, a better space, instead of introducing people to what already exists. When doing her job, she always goes back to "what is my intention? What am I trying to do?".
Moreover, she has found it is imperative always to ask how individuals find a space. When it comes to transformation, she says we cannot only speak from a race perspective; although it is important, there are other issues, such as disability.
Although transformation is great, she says that inequality does exist. This is because transformation can be very one-sided. Lastly, Gongqa emphasised that compassion, radical love, and empathy are needed in her line of work.