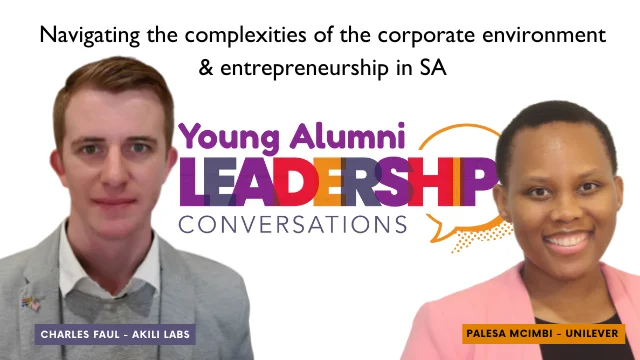 By Uyanda Ntloko, School of Journalism and Media Studies student
As part of a series of leadership conversations, Rhodes University's Alumni Relations Office, Student Representative Council President Mr Botlhale Modisaotsile and Vice-President Ms Tinashe Hlako held an Inaugural Young Alumni Leadership Conversations with Mr Charles Faul and Ms Palesa Mcimbi in celebration of Freedom Month.
Set to be the premier event on the University Freedom Month calendar, the event aimed to celebrate and showcase the achievements of young Old Rhodians who are emerging as corporate leaders and formidable entrepreneurs, forging successful careers, and making a positive impact and contribution to the society. The conversation under the theme "Navigating the complexities of the corporate environment & entrepreneurship in SA – lessons from two influential Old Rhodians" was held virtually on 28 April 2022.
Mr Faul is the Chief Executive Officer and founder of Akili Labs. This multifaceted biotechnology company specialises in developing low-cost, high-quality laboratory lnternet of Things (IoT)-based solutions for rapid point of care medical diagnostics, field laboratory systems and research equipment to improve scientific research and healthcare. Mr Faul also provides funding for scholarships for postgraduate biotechnology-related studies. As a student, he was a generous supporter of Give5, which supports the dignity drive run by the Division of Student Affairs. His business continues to support the fund.
Born and bred in Mthatha, Ms Mcimbi joined Unilever South Africa after completing her Commerce and PDEM degrees in 2014 and quickly moved to middle management, where she has held several positions. Currently, she is the Treasury and Financial Controls Manager at Unilever. She has also enjoyed an international opportunity in the Netherlands as part of the Unilever Future Leaders Programme. Ms Mcimbi is passionate about women's empowerment, transformation, and community engagement. As a devoted Christian, she runs her own YouTube channel that focuses on faith and lifestyle.
Ms Hlako welcomed all attendees with a quote. "When I think of freedom, I think of a quote by Kofi Annan which states, 'Education is a human right with immense power to transform. On its foundation rest the cornerstones of freedom, democracy, and sustainable human development.'"
After introducing the panellists, Mr Modisaotsile quoted Michael Phelps: "There will be obstacles. There will be doubters. There will be mistakes. But with hard work, there are no limits."
In becoming a leader and an engaged citizen, Mr Faul advised, "Don't be discouraged by seeing successful people that have accomplished certain things, as the majority have started from scratch."
Mr Faul's discussion on this matter was based on his experience at Rhodes University, in the Department of Biotechnology where he completed his Biotechnology Honours in 2015. One of the questions that Mr Faul gets asked often is: 'Did you inherit your company from your parents?'
He said the answer was no, which shocked people since it is common to inherit a business this way. "Starting from scratch is taking a multitude of interdisciplinary pieces of information and combining them to be resourceful," said Mr Faul.
Ms Mcimbi said she met extremely competitive people at Unilever, which weighed heavily on her confidence. She quickly shrugged off this as she relied heavily on her own strengths, which placed her firmly ahead of the pack.
"The background and experience you bring influence how you show up. This weighed on me quite a lot, as I was entering a new space, and I needed to be employed and make something of myself," said Ms Mcimbi.
On the importance of transformation and diversity in the workplace, Ms Mcimbi took attendees through her journey in the organisation she works for and what part she plays.
She said, "In July 2020, South Africa had an acknowledgement and need to be inclusive and diverse in the space that I work in – doing consumer goods for Unilever. It's important that there is diversity and representation of people from all groups showing up in our work," said Ms Mcimbi.
Concerning the value of mentorship and coaching, Mr Faul highlighted how, at Rhodes University, one gets an opportunity to be of value to other people through mentorship programmes.
Ms Mcimbi concurred, "There are a lot of opportunities at Rhodes University and most people that I know are involved in more than one thing outside their degree, and these things help you when doing interviews, applying for graduate programmes, and employment activities."
Mr Faul acknowledged the importance of being an engaged citizen and paying it forward. "When I was in the United States, as an exchange student, we were expected to contribute to the community as part of the Nelson Mandela Washington programme. We assisted the pantries that provided people with food, as well as soup kitchens," said Mr Faul.
Both panellists shared their experiences and strengths with the hope of equipping students through their advice. Both the panellists engaged critically and significantly in points of discussion that included: starting from scratch, creating a lasting first impression, the importance of transformation and diversity in the workplace, the value of mentorship and coaching, as well as the importance of being an engaged citizen and paying it forward.
Mr Modisaotsile gave appreciation to the two influential Old Rhodians for their insightful contribution to helping students navigate the complexities of the corporate environment and entrepreneurship in South Africa.
In closing, Mr Luyanda Bheyile, Manager: Alumni Relations and Stakeholder Engagement, thanked all the panellists and stressed the importance of strengthening the relations between the University and its alumni and invited those who would like to suggest speakers or topics for the next conversations to inform the alumni relations unit at alumni@ru.ac.za.