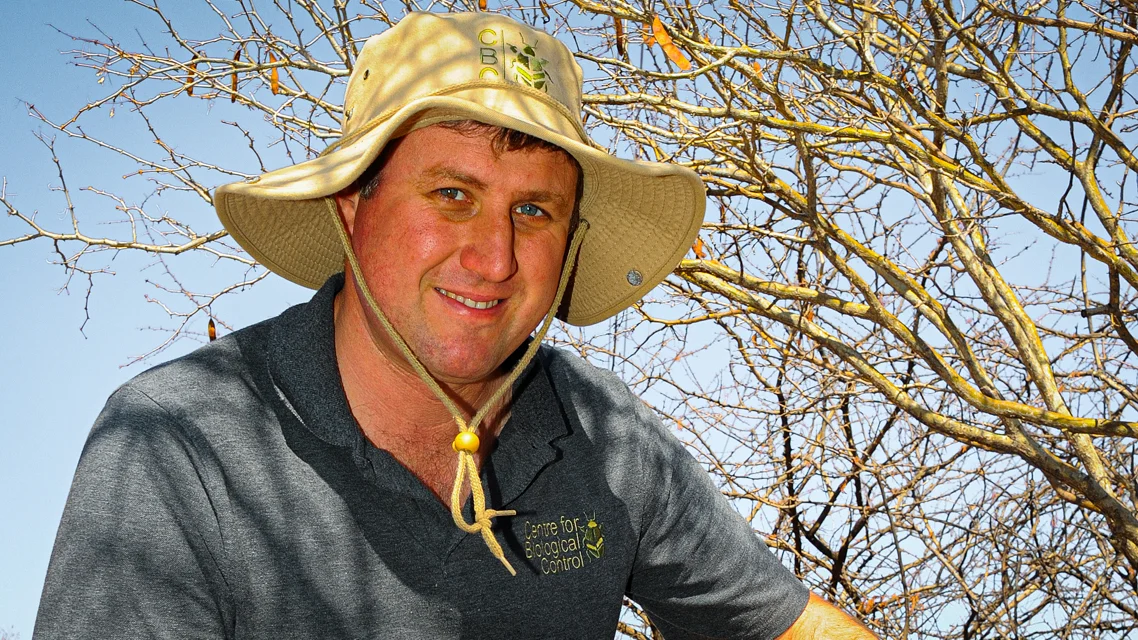 By Poelo Irene Keta
Over the last decade, biological control has significantly reduced the negative impacts of invasive alien plants in the country in an environmentally friendly and sustainable way. According to the Department of Zoology and Entomology Associate Professor and Deputy Director of the Centre for Biological Control Iain Paterson, their natural enemies are usually left behind when plants are moved around the world. He said this gives them an advantage when they are introduced into a country where they don't belong.
Prof Paterson said these plants become overabundant, negatively impacting indigenous biodiversity and agriculture. In the last decade, African Entomology's recent review of the biological control of invasive alien plants in South Africa observed how far researchers have come in the development of effective biological control methods.
Since its launch in 2017, the Centre for Biological Control (CBC), a research centre based in the Department of Zoology and Entomology, has brought together researchers in biological control from several different universities. "The CBC works on many projects, all related to controlling problem organisms using biological control. Biological control is a safe and effective way of controlling harmful invasive alien plants. It involves using natural enemies (usually plant-eating insects or pathogens) that have co-evolved with the invasive alien plant in its indigenous distribution," explained Prof Paterson.
The special issue of African Entomology (Volume 29, Issue 3), which was published in December 2021, reviews all the active biological control programmes that have been worked on in the past ten years. These include an update on work done on 72 invasive alien plants targeted for biological control in the country and other important developments in the field. There are 24 papers that cover these topics in the issue and 59 authors who contributed.
Rhodes University has made a significant contribution to this special issue. Two of the four Editors, Prof Paterson and Dr Grant Martin, are Rhodes University research staff, and another of the Editors, Prof Terry Olckers, received his PhD from Rhodes University and now works at UKZN. "The guidance of the Director of the CBC, Professor Martin Hill, has been extremely important in achieving what is reported on in the special issue and putting the special issue together. Half of the work reported on in the special issue is work that was conducted by Rhodes University academics, which indicates how important this university has been in the field over the last decade," said Prof Paterson.
Currently, the CBC is working on controlling citrus pests, water weeds, cactus weeds, and weeds of high elevation water catchments and many other similar projects. "I work on cactus weeds and run a facility that rears biocontrol agents that are released all over the country. We have released agents at hundreds of sites around the country. A CBC PhD student, Zezethu Mnqeta, who graduated in April this year, has shown that these releases have effectively reduced cactus densities and been beneficial to farmers and other land users in the country," Prof Paterson concluded. Dr Mnqeta was also one of the authors who contributed to the review of cactus biocontrol in the special issue.