Idowu Adetomokun
Lecturer
PhD (UWC)
Email: i.adetomokun@ru.ac.za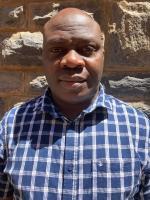 Research interests:
Application of semiotic remediation to media, music, and political discourse
Analysis of African proverbs, communal discourse, and formal communication texts from a systemic functional linguistics perspective
Analysis of the multi-semiotic nature of representation in texts and social discourse.
Modules taught:
Linguistics 1 Discourse Analysis
Linguistics 2 Discourse Analysis
Linguistics 3 Discourse Analysis
Professional Communication
Professional Communication for Accountants
Postgraduate Critical Discourse Analysis
Postgraduate Multimodality
Publications:
Banda, F. and Adetomokun, I. (2015). African renaissance and negotiation of Yoruba identity in the diaspora: A case study of Nigerian students in Cape Town. International Journal of African Renaissance Studies-Multi-, Inter-and Transdisciplinarity, 10(1), 83–101.
Last Modified: Thu, 23 Mar 2023 15:20:52 SAST