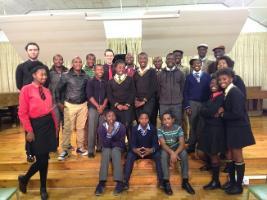 Rhodes > Music > Latest News
Learners from Township Schools Attend Music Department Students' Concert
Date Released:
Thu, 6 March 2014 10:07 +0200
Music Department students Christo Greyling and Paul Richard performed in front of an enthusiatic audience last night. The audience included learners from Ntsika and Nombulelo High Schools involved in the Access Music Project and the Grahamstown Field Band Foundation at the Joza Youth Hub. Gareth Walwyn (Access Music Project) and Ziyanda Gysman (Field Band Foundation) were of great assistance in facilitating the event.
The evening began with lecturer Mareli Stolp giving a talk to the learners about the music they were about to hear, which was followed by the concert. Christo Greyling, a pianist, is a BMus student in his 4th year of study, and saxophonist Paul Richard is studying towards his MMus, having completed his honours degree in Music at Rhodes last year. All proceeds from the concert were donated to The Corner House, a group home for psychiatric care.
Source:Department of Music and Musicology