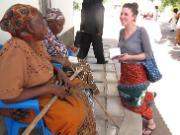 Rhodes > Music > Latest News
Music Student Awarded Mandela Rhodes Scholarship
Date Released:
Fri, 14 February 2014 11:30 +0200
Nicole Germiquet conducting fieldwork at Antioka mission station
in Mocambique in October 2013
The Department of Music and Musicology is proud to announce that one of its post-graduate students, Nicole Germiquet, was awarded the Mandela Rhodes Scholarship. The Mandela Rhodes Foundation seeks individuals who aspire to upholding the foundation's four core values of leadership, education, reconciliation, and entrepreneurship. Being awarded a Mandela Rhodes Scholarship is an achievement whose benefits will be experienced for life. Scholars are offered an opportunity to engage in workshops that focus on developing exceptional leadership aimed at benefitting Africa. These workshops provide a forum for scholars from all over the African continent to exchange ideas and grow together in becoming future leaders. This scholarship is more than financial assistance for postgraduate education at a South African university; it is a lifetime connection with a network of scholars who strive to work towards a better future for all in Africa.
Nicole applied for the scholarship as a challenge to improve her leadership skills as she strives to make a positive difference to life in Africa through music. The scholarship has allowed her to embrace the opportunity to discuss social issues where music is potentially of benefit. Music is an essential part of cultural life in Africa and by encouraging the performance of, and engagement with, the vast array of music in Africa, she hopes that each community will realise the importance of its contribution towards global understanding. Nicole is the first Masters degree in Ethnomusicology recipient of the Mandela Rhodes Scholarship since its inception in 2003. She is looking forward to representing Ethnomusicology and the Department of Music and Musicology in this cohort of scholars.
Source:Department of Music and Musicology