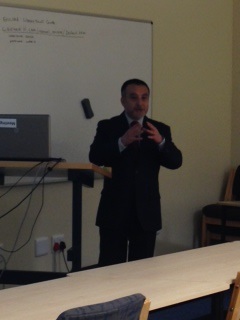 Rhodes > Music > Latest News
Ricardo Colima (Universidad de Magallanes, Chile) Gives Lecture at Rhodes
Date Released:
Sun, 31 August 2014 21:00 +0200
On Monday, 25 August, Ricardo Colima of the Universidad de Magallanes in Chile, gave an inspiring talk on the rise of community and university based orchestras in Chile since the 1970s. The orchestras have had an enormous impact on social development, in as far as young people are motivated to enter the world with confidence, joy and a strong sense of citizenship. In this regard the Chilean government and other funders have been major allies.
Another aspect to Colima's visit is to initiate an exchange programme between the Department of Music and Musicology at Rhodes University and his institution in Punta Arenas, Chile.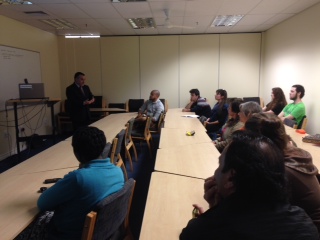 Source:Rhodes University Department of Music and Musicology