Rhodes > Music > Music Events
Lunch Hour Concert Anna Talbot and Jennifer Ferris
Date:
12 October 2016 13:15 - 12 October 2016 14:00

Location:
Beethoven Room, Department of Music&Musicology, Rhodes University
Organiser: Denétha Peters (Phone 046 603 8490)
Event Type: Music Concerts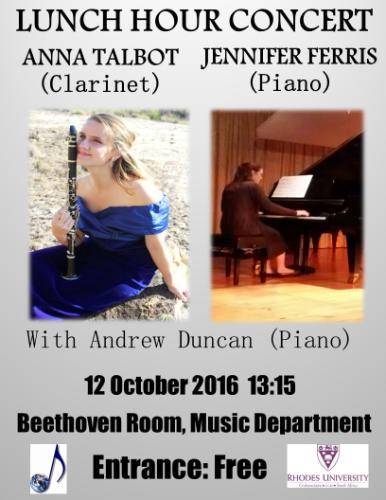 Program:
Suite in Baroque Form for Clarinet and Piano (2002) Paul Harvey
I- Prelude
II- Siciliana
III-Minuet & Trio
IV- Gigue
Sonata for Clarinet and Piano (1962) Francis Poulenc
II- Romanza
Scaramouche. Suite for 2 Pianos (1937) Darius Milhaud
I. Vif
II. Modéré
III. Brazileira
Anna Talbot is a third year BA Music and Fine Art theory student. She has her Grade 8 ABRSM on Clarinet and currently teaches clarinet and recorder privately and teaches movement and music at Timlin Montessori. Anna has hopes of being a teacher in the near future.
During her music career she has travelled with the Kwa Zulu Natal Youth Windband to Mauritius, China and Germany and with the KZN Youth Orchestra nationally.
Jennifer Ferris is a 4th year BMUS student. She has her Grade 8 UNISA in piano and currently teaches piano privately. Jenny took part in the Stellenbosch Chamber Music Festival in 2010, was a participant in the Mavis Hill competition in 2015 and performed with the Rhodes orchestra in 2015 and 2016. In 2014 she won the John and Audrey Foxcroft Beethoven Prize (awarded for the best rendering of a Beethoven sonata or movement thereof). Next year Jenny will be teaching music at a school in her hometown in Zimbabwe.
Save to Google Calendar