Rhodes > Music > Music Events
Lunch Hour Concert Garreth and Devon
Date:
02 November 2016 13:15 - 02 November 2016 14:00

Location:
Beethoven Room, Department of Music&Musicology, Rhodes University
Organiser: Denétha Peters (Phone 046 603 8490)
Event Type: Alumni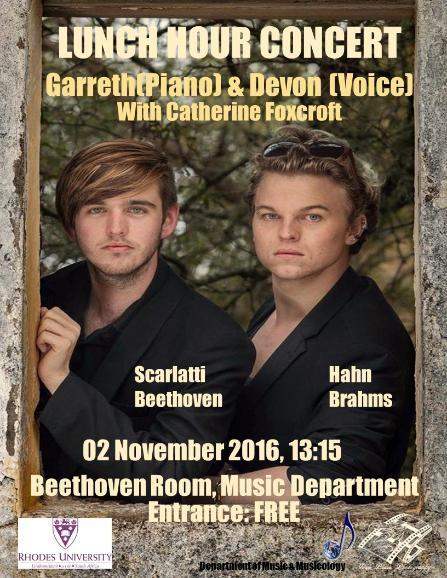 Garreth Robertson began piano lessons in Grade 1 under the tutorage of Alma Du Preez at Cambridge Preparatory School. He continued lesson with her for 7 years entering eisteddfods and Trinity College of music Graded examinations. Garreth then continued onto the High school where he was taught by Lidia Tzoneva who saw him through to his grade 8 with a distinction. While in High Scholl he continued with examinations and eisteddfods. Tzoneva began to involve him in other activities such as accompanying of instrumentalists, the chamber choir and full choirs. During his high school years he began teaching after hours at a private music school, Da Capo Music School, throughout his grade eleven and matric years. At the end of his matric year, Cambridge High school and Preparatory School offered him a position as a music teacher and accompanist for the duration of his gap year. It was during this year that he accompanied all school choirs, instrumentalists and singers, including the East London Annual Mass Choir festival in 2013. He gained experience through teaching and examining during this time. In 2014 Garreth finally enrolled at Rhodes University where he began a BMus degree under the tuition of Prof. Catherine Foxcroft, a teacher he always hoped to study under. Garreth is currently in his third year of studies and during his journey at Rhodes he has been awarded in house bursaries and scholarships, taken part in the Grahamstown annual music competition and completed his Unisa Grade 8 examination.
Devon Florence (Baritone) 4th Year BMus
For nine years Devon was turned away by the head of the school choir, being told to be grateful for the talents he had, as singing was not one of them. For as long as he could remember all he wanted to do was sing and at the age of 16 – a Cape Town singing teacher – Brenda Feldtmann – changed his life forever by teaching him how. Devon trained as a Tenor for 7 years before changing Fach to Baritone in August of this year. He has taken part in many public performances, concerts, and charity events, as well as competitions which include the KZN Philharmonic Youth Concerto competition, the Grahamstown Music competition, and the SAMRO international scholarship competition. In 2014 Devon was invited to perform as a soloist with the East Cape Opera company in a concert version of Strauss'sDie Fledermaus which was performed with a German orchestra touring South Africa. Devon has received numerous scholarships from the Rhodes music department and Rhodes University and was taught by Gwyneth Lloyd for 3 years, and is now under the tutelage of Jo-Nette LeKay. Devon is pursuing further post-graduate studies with Virginia Davids at UCT in 2017, and hopes to continue to create a life for himself as a professional opera singer.
Save to Google Calendar