Rhodes > Music > Music Events
Voice Easter Concert
Date:
06 April 2017 19:30 - 06 April 2017 21:00

Location:
St. Michael & St. George's Cathedral, Grahamstown
Organiser: Denétha Peters (Phone 046 603 8490)
Event Type: Music Concerts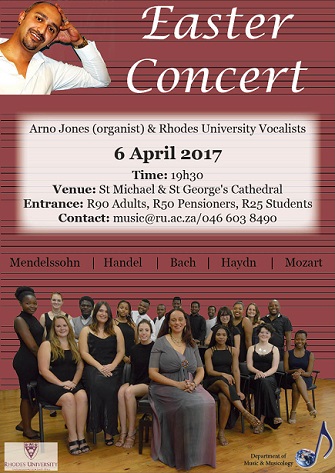 ‌
Please come and join us for a beautiful start to Easter. We will be performing in the St Michaels and St George's Cathedral, which would be a first for us as soloists in the Rhodes Vocal Department. We will be doing famous pieces from Oratorios like The Messiah, The Elijah, Samson, St Matthews Passion, The Mozart Requiem and various pieces by other composers.
Joining us from Stellenbosch is acclaimed organist and accompanist Arno Jones. Arno Jones is an avid musician and an accomplished accompanist. He completed his tertiary studies at the University of Stellenbosch where he furthered his music education in Piano, Clarinet, Saxophone, Singing and Pipe Organ. In 2002, Arno was approached to be the Rehearsal and Orchestral Pianist for the Spier Summer Festival Productions of Carmen, Silver Lake and West Side Story. Since he graduated with his HonsBmus he also obtained his Performance Licenciate in Pipe Organ as well as his Teachers' Licenciate in Singing. Arno has accompanied many well-known professionals in the business as well as done several overseas tours with Choirs and Soloists to Belgium, the Netherlands, USA, France and Switzerland.
We as the Vocal department at Rhodes are very honored and excited to be performing with him in this Easter Concert. He will be conducting Masterclasses with the students in the days before the concert, and everyone is busting to hear what he has to say; and to experience his skills.
Date: Thursday, 6 April 2017 @ 19H30
Venue: St. Michael & St. George's Cathedral, Grahamstown
R90 Adults, R50 Pensioners, R25 students
Save to Google Calendar