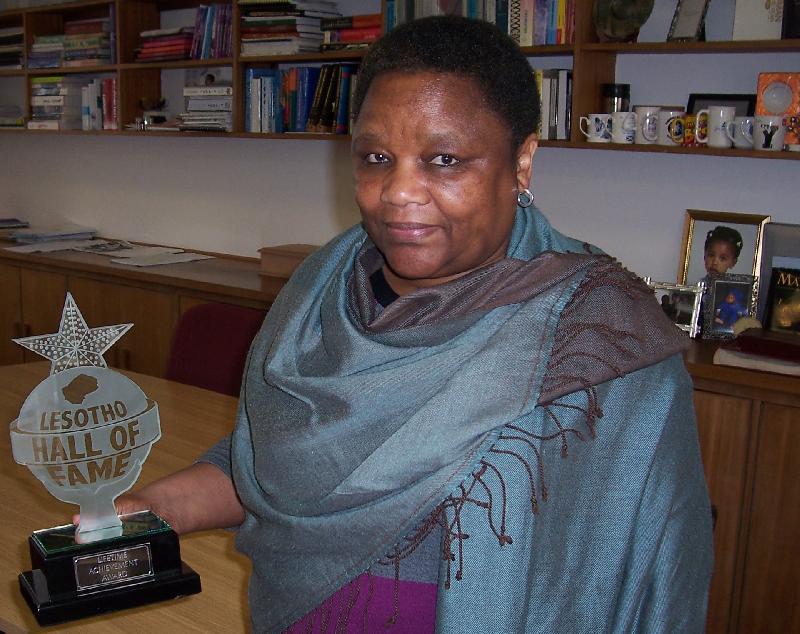 Professor Tebello Nyokong, one of Rhodes University's most celebrated academics, is no stranger to awards. On Saturday she was the recipient of another richly deserved accolade in the form of a Lifetime Achievement Award in the first ever Vodacom-Lesotho Hall of Fame Awards.
Organised by the Vodacom-Lesotho Foundation to celebrate and pay tribute to Basotho who have had an outstanding impact in contributing towards the country's national pride, the Hall of Fame looks to maintain the rich heritage and success of these achievers. Prof Nyokong describes receiving this recognition from the country of her birth as "extremely special", although she adds that she certainly hopes to have more lifetime granted to her to achieve further goals.
She has a long and extremely distinguished career in the field of Chemistry, working towards a relatively new treatment for cancer, called photodynamic therapy (PDT), which makes use of the properties of phthalocyanine dyes. Unlike commonly used treatment methods, the effects of PDT can be localised, presenting a cheaper and far less intrusive alternative to chemotherapy. Prof Nyokong has also been involved in research on developing a means to clean up environmental pollutants such as insecticides and herbicides.
Obtaining her Bsc from the University of Lesotho, Nyokong studied further in Canada, obtaining an MSc in Chemistry at McMaster University and her PhD from the University of Western Ontario. After a stint as a Senior Lecturer in Physical and Inorganic Chemistry at the University of Lesotho, she moved to Rhodes University and became a Professor in 2001. In 2007 she was appointed as DST/NRF research professor of Medical Chemistry and Nanotechnology.
Prof Nyokong explains that the nomination came out of the blue, and at short notice. Among her fellow nominees were people who motivated her in her early career, among some of whom were her teachers. One of the younger nominees, she was honoured to be in their company at the ceremony, and finds it "very touching" that a permanent structure is planned, where the names of the winners will be displayed for the benefit of future generations.
It is obvious that this is an award close to Prof Nyokong's heart, disproving as it does the old adage that a prophet is not recognised in their own land. She will remember the ceremony for another reason too. Unaware that she would be asked to make a speech, she found herself ad-libbing in front of the distinguished audience.
"The awards are an idea born after Vodacom realised there are people worthy to be honoured for their contribution and efforts in the growth of our country," Ketsia Mat'sela, the Hall of Fame coordinator, told the Lesotho Times. According to the Lesotho News Agency, recipients of the Vodacom-Lesotho Hall of Fame awards were "moved and touched by a noble endeavour undertaken by the company to honour them for their noteworthy achievements in various fields of life in the country."
Source:
Please help us to raise funds so that we can give all our students a chance to access online teaching and learning. Covid-19 has disrupted our students' education. Don't let the digital divide put their future at risk. Visit www.ru.ac.za/rucoronavirusgateway to donate