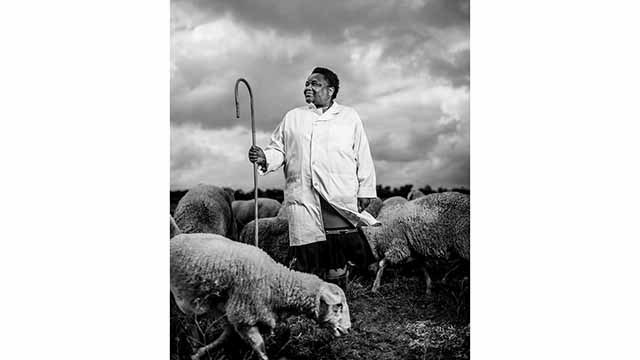 Professor of Science, Tebello Nyokong is a legend. This week she became the first recipient of the Black Science, Technology & Engineering Professionals (BSTEP) Excellence Award. She was identified as a legend and honoured in the first ever Black Science, Engineering and Technology (SET) awards at the CSIR International Convention Centre.
She holds a Department of Science and Technology/National Research Foundation (DST/NRF) professorship in Medicinal chemistry and Nanotechnology at Rhodes University. She was unavailable to accept the award herself, but instead sent two of her former PhD students, Dr Nolwazi Nombona and Dr Vongani Chauke to receive the award on her behalf.
"She epitomises excellence, she is an internationally recognised leading researcher in her field. She paved the way for us to be creative in our own spaces. She is student centred and imparts skills that will ensure excellence in their future careers," enthused Dr Nolwazi Nombona.
Nombona felt honoured to not only represent Prof Nyokong, but for the opportunity to tell delegates about her amazing teacher and mentor. "She inspires my confidence and has inspired me train students as she has trained me in academia and to establish myself at my own pace," she added.
Dr Chauke shared the same sentiment as Nombona, adding that they were treated like royalty at the awards on behalf of a researcher that deserves every accolade she has received in her career.
"Prof works hard and we are privileged to have her as a role model who believes in black excellence. It shows in the way in which she trains her students and conducts ground-breaking research," said Dr Chauke.
The two former students particularly mentioned the exceptional education they were afforded by Prof Nyokong's ability to attract and expose students to excellent research facilities and down to earth methods.
Last month the National Laser Centre rental pool programme, which is part of the Council for Scientific and Industrial Research (CSIR), honoured her with two awards; number of students trained and the number of doctorates awarded in 2016/2017.
She is also the Director of the DST/Mintek Nanotechnology Innovation Centre (NIC)-Sensors based at Rhodes University. She has been undertaking research on applications of dyes and nanotechnology in cancer treatment, sensing and pollution control.
Prof Nyokong has successfully supervised over 70 PhD/MSc students and published over 550 manuscripts (including patents, a book and book chapters).
"I should not be winning awards anymore; we must be winning them collectively by working together to find solutions for the betterment of our respective societies. We need to work hard and deserve recognition not only internationally, but here at home," said Prof Nyokong.
In 2016, she was awarded the African Union Kwame Nkrumah Scientific Award for her Contribution in the Development of Nanoscience and Nanotechnologies.
Source: Communications
Please help us to raise funds so that we can give all our students a chance to access online teaching and learning. Covid-19 has disrupted our students' education. Don't let the digital divide put their future at risk. Visit www.ru.ac.za/rucoronavirusgateway to donate