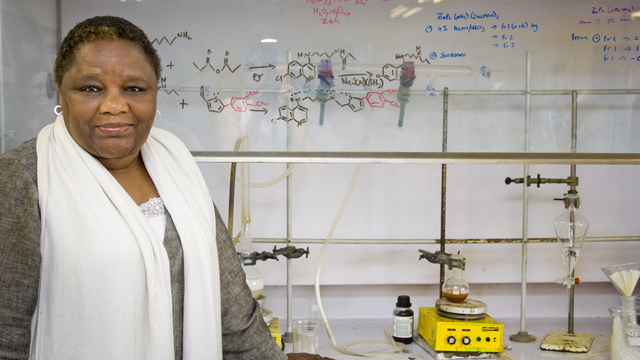 Rhodes University's Distinguished Professor Tebello Nyokong will be receiving her fourth honorary doctorate in June, this time from her alma mater Western University where she completed her PhD in Chemistry.
She has previously received honorary degrees from the University of South Africa (UNISA), Walter Sisulu University and most recently, the University of KwaZulu-Natal.
Prof Nyokong is internationally recognised for advancing photo-dynamic therapy as an alternative to chemotherapy for cancer treatment and developing new methods for purifying drinking water.
"It is a great honour when your alma mater recognises you for your work in this way. I am humbled," Prof Nyokong said.
She was most impressed by the fact that Western did not acknowledge her as a 'scientist in Africa' or a 'woman scientist' specifically, as she believes this to be patronising. "The fact that I am not being lauded for being a woman or being an African, means it is just about the science," she said. She believes this shows that African science, and especially South African science, is being recognised as world-class science.
Prof Nyokong is excited about what this award will mean to her students. "It is not just for me, but for the students I am leading. They often lack confidence in their work, as they feel by being all the way at the bottom of the African continent, that things are better elsewhere. This award is testament to the fact that scientists in Africa are every bit as important as those in developed nations," she stated.
To her students, and African students all over the continent, she advised, "It's about patience and consistency. Don't let anything stop you. When you reach and obstacle, don't give up – rather work on it and solve it. It is through solving difficult problems and meeting your challenges that true learning happens."
Professor Nyokong's honorary Doctor of Science, honoris causa (D.Sc.) will be awarded during Western University's 313th Convocation on 13 June 2019.