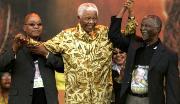 Rhodes > Perspective > Latest News
Deep Impact: Mandela's death and SA politics
Date Released:
Mon, 9 December 2013 13:00 +0200
The death of Nelson Mandela has put our everyday concerns to one side. No one right now is living in the political present, we are living in the political past, those moments during the Rivonia Trial, the State of Emergency, FW de Klerk's 1990 speech, Madiba's release, the talks and the talks about talks, the Chris Hani assassination, and that moment in 1994 when we realised that we really are free at last. Politically at least. But, it cannot be denied that we are now in a completely different political zone. Politics as we know it has been suspended. People who were professionally not speaking to each find themselves united, perhaps just briefly. This means that some processes are going to be simply paused, others changed, and some, possibly derailed.
I've suggested before that for a politician, dying is indeed a political act. It is an action that has certain repercussions. In the case of someone as big, important, and momentous as Madiba, the ripple effects are quite large. Political business is suspended. But not in the same way that trading on the JSE was simply paused for five minutes, and then resumed, as if there was a computer glitch that stopped it. Rather, this is more like throwing a large rock into a pond, there are waves that turn into ripples that disrupt the entire body of water.
The first, and most obvious, question many cynics have asked, if not publicly, is what impact this will have on next year's elections. The only answer is: on every level, it's too soon. Both to ask, and to say. And we should jump in and fully experience what's happening around us at the moment, not jump immediately to the future. It's a conversation for another day.
But there are other processes that cannot be put off, because of their sheer practical nature. The first was the ANC's National Executive Committee meeting, and its National List conference, that was due to be held this weekend. As the meeting that would decide who will go to Parliament, and the provincial legislatures for the ANC, it's a true biggie. There are many careers at stake, egos to soothe, and constituencies to manage. However, all of the people involved in that process will be more than happy to wait. For them, as for all of us, there are more important things to do now.
Which means that these delays are unlikely to produce any massive effect. The list process will go ahead, and those who will be on the list, will be on the list. The rest will have to wait another five years.
However, the other big meeting that was supposed to happen over this time is the National Union of Metalworkers of South Africa's Special Congress, to decide whether to leave the Alliance. This is a process that could well be disrupted in some way by the event that is consuming us, and the world, at the moment.
It was less than twenty-four hours after Mandela had died that ANC Secretary General Gwede Mantashe mentioned members of the alliance, the SACP and Cosatu were involved in all the activities around Madiba's funeral. And then he let slip, perhaps deliberately, that already "Zwelinzima and S'dumo had been in the same meeting". No matter how we view these things, the dynamic between Vavi and Dlamini, as the suspended general secretary, and the president who effectively suspended him, is crucial to the process that has been unfolding over the last few months.
If there was one key moment that seemed to really tell us of a split involving NUMSA leaving the Alliance, and possibly Cosatu, it was when Cosatu's Central Executive Committee, presumably at the behest of Dlamini, voted to suspend Vavi. That must have hurt. Big time. And the dynamic around Vavi is particularly important. While he is technically not a part of NUMSA, or even necessary for its conference to go ahead, without him, NUMSA would be weakened.
So if there is any chemistry to watch over the next few days that is not Madiba-related, it is the chemistry around Vavi and Dlamini. Mantashe, who has spoken movingly and well over the last few days about Madiba, also spoke with emotion about the alliance before Thursday night. He seems willing to do almost anything to help keep things stitched up, and this may be an opportunity, both to buy him some time, and also to use whatever levers he has to do that.
But let's put such mundane concerns aside.
There is a much bigger dynamic playing out at the moment, which could shake things up over the longer term. Moments like this have a tendency to make humans, and politicians, stop and think. It's not just about the easy victory and the story-turning sound-byte. We are now in a place where people can really think about where we are, and what our future is. This concentration on our past will also make us think about our present. And people will think differently, because they have the time, the space, and in part, thanks to Madiba's memory, the inspiration to do so.
Something that we've lacked for quite a while in our politics is the will to work together. This is not so much a comment on relations between the ANC and other parties, but within the alliance. The Youth Wage Subsidy is a good example. With a bit of luck, there may well be more thinking about how to rekindle that ability, to actually get things done, which was a hallmark of Mandela's years in office.
Certainly, over the next few days, all of our politicians are going to have plenty of scope to see each other in different surroundings. Sometimes, sitting next to someone for several hours at a time, in an apolitical setting, where sniping is simply not allowed, can lead to surprising results.
And maybe, just maybe, Madiba's last gift to the nation will not only be the national reconciliation we've seen over the last few days, but a reminder to our political classes, of what they can do, when they all put their shoulders to the same wheel, in the same direction.
By Stephen Groote
Source: Daily Maverick
Grootes is the senior political reporter at Eyewitness News, and the host of the Midday Report on Talk Radio 702 and 567 Cape Talk.
Grootes is the host of the Midday Report on Talk Radio 702 and 567 Cape Talk, and the Senior Political Correspondent for Eyewitness News. He's been part of the political hack pack since before the Polokwane Tsunami, and covers politics in a slightly obsessive manner. Those who love him have recommended help for his politics addiction. He quotes Amy Winehouse. Grootes studied at Rhodes University
Photo: Former South African president, Nelson Mandela (C) smiles as he arrives with African National Congress (ANC) president Jacob Zuma (L) and South Africa's president Thabo Mbeki at the Loftus stadium in Pretoria during a rally organised by the ANC to celebrate Nelson Mandela's 90th birthday August 2, 2008. REUTERS/Siphiwe Sibeko (SOUTH AFRICA)
Source:Daily Maverick