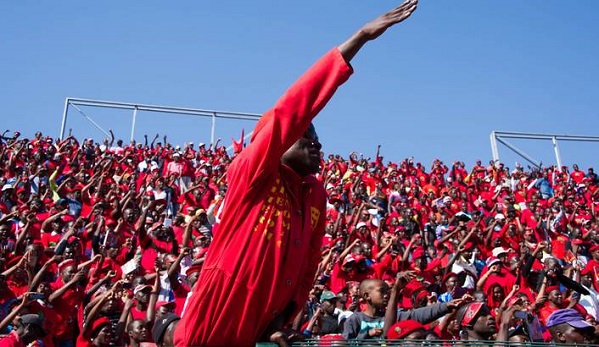 Rhodes > Perspective > Latest News
EFF land occupations: 'Rondebosch and Camps Bay are next'
Date Released:
Wed, 8 April 2015 11:49 +0200
On Monday, the Western Cape branch of the Economic Freedom Fighters assisted a group of people in occupying a plot of land in Khayelitsha. A statement put out by the party on the same day encouraged homeless people nationwide to "identify open and unoccupied land wherever they choose". Leaders say that Monday's occupations are only the beginning, with more privileged areas next in line.

On the 363rd anniversary of Jan van Riebeeck's arrival in the Cape, and the 36th anniversary of the hanging of MK activist Solomon Mahlangu, the EFF took action to mark what they describe as the day's "brutal legacy".

A day earlier, a call-out was sent to party members in the Western Cape. "Ward 90 (Site B Khayelitsha) invites all fighters to a land occupation program that will take place tomorrow," it read. Members of this community, out of frustration with landlessness and exclusion, had "resolved to take what is rightfully theirs, their land!"

The statement pointed fingers at both provincial and national government for the housing shortfall. The Western Cape's housing backlog was a "disaster", the EFF said, but it also singled out comments made by Human Settlements Minister Lindiwe Sisulu for special criticism. Late last year, Sisulu said in a parliamentary address that the culture of entitlement to houses felt by South Africa's youth needed to end.

The EFF's statement demanded that the government provide basic services – such as electricity, water, and sanitation – on the land selected for occupation. It concluded: "Fighters are to attend in numbers with EFF regalia. Provincial leadership will be part of this programme."

Over the course of Monday, EFF Western Cape leader Nazier Paulsen told the Daily Maverick, around 10 shacks were erected on the site chosen in Khayelitsha. He estimated that the land – which he said had been lying vacant, occasionally used for soccer games – would eventually house about 500 people.

Despite the fact that it had been reported that police and anti-land invasion units were on "high alert" in advance, Paulsen said that law enforcement officials had "kept their distance" and allowed the occupation to go ahead, though they had documented events with cameras.

Paulsen was keen to stress that although the EFF had facilitated the occupation, it had been in direct response to a call from the relevant community. He also denied reports that the Ses'khona People's Rights Movement had been involved.

"Ses'khona came there afterwards to try and claim the process, but I want to make it absolutely clear that this is a process driven by the community. EFF was there to assist where we could," Paulsen said. Those who took part were not all EFF members, he said. "We don't believe that your political affiliation should determine whether you get a house."

Land occupation is a central part of EFF policy, and in January the party announced that it would be stepping up its efforts in this regard. The City of Tshwane has been battling the EFF over illegal land-grabs for some months, removing occupiers in areas including Mamelodi, Soshanguve and Atteridgeville.

In the past, the party has denied that their occupations are illegal. "There is nothing wrong in it," EFF chief whip Floyd Shivambu told journalists last November. "If government delays allocating land, people must occupy it."

Monday's Cape Town action marks the beginning of a wider campaign than the party has undertaken previously. On the same day, EFF members in Bloemfontein, Viljoenskroon, Kroonstad and Tembisa were reported as having also occupied land.

Simultaneously, the EFF's drive to see the removal of statues of colonial figures seems to be intensifying too. The Port Elizabeth Herald reported that around 30 suspected EFF members dismantled PE's Horse Memorial on Monday, removing the British soldier sculpted as riding a horse, but leaving the horse behind. The statue commemorates animals which died in the Boer War.

There was some confusion over whether EFF members in Pretoria were responsible for the defacing of the Paul Kruger statue in Church Square. The party initially claimed responsibility, but later in the day appeared to retract it. There is no ambiguity over the party's feelings about a statue of Jan van Riebeeck in Cape Town, however: leaders have called for the statue's fall "as it represents the idea that our people cannot have claim to a land they have lived in for millenniums [sic]".

Paulsen, a former Cope member whose Twitter bio reads: "We are no longer at the gates. We are no longer scaling the walls. We are in the palace grounds and we are not here for cake", took to social media to document the Khayelitsha occupation.

"Plots must be big enough for a decent three-bedroom home, a garden in front and a pool at the back," he tweeted.

Asked why land in Khayelitsha was targeted for occupation rather than in a less deprived area, Paulsen told the Daily Maverick it was for practical reasons: "People have materials close by there," he said.

In the coming days, however, Paulsen indicated that more privileged parts of Cape Town might be similarly targeted.

"If people are to get themselves to areas like Rondebosch Common and Camps Bay, we are not dictating to them where they should settle," Paulsen said. "Rondebosch, Camps Bay, Bishopscourt – we will gladly assist. This is only the start. It will be a continuous programme."

He insisted, however, that the initiative for these occupations needed to come from people in need of land rather than being formally organised by the EFF. "As and when communities request our assistance, we will be there," Paulsen said. "We are solving a crisis."

The 40-hectare Rondebosch Common, which is in close proximity to a number of prestigious schools, has featured repeatedly in past discussions about Cape Town land occupation. Provincial Cosatu head Tony Ehrenreich urged people in 2012 to occupy the Common. An "Occupy Rondebosch Common" demonstration held at the time culminated in protesters being sprayed with blue dye and being arrested.

"We are encouraging all homeless people to find vacant, unoccupied land," Paulsen said.

Response from rival political figures to the EFF's occupations was critical. When Paulsen posted the call to action on his Facebook profile, ANC Western Cape head Marius Fransman responded by calling it "just reactionary".

"The fight is for integrated human settlement and I've already in [the] past indicated that there's many [pieces of] provincial state land that should be used for this," Fransman wrote.

The City of Cape Town, meanwhile, condemned "land invasions and the incitement to invade state or privately owned land in the strongest possible terms", with private land-owners urged to be "vigilant". Illegal occupation of land resulted in "poor access to city services, constant flooding, high crime rates and poor connections with economic opportunities," the City said.

In Gauteng, the ANC said of the nation-wide land occupation campaign that it was "not only illegal, but borders on anarchy".

Such criticism is unlikely to deter the Fighters. "The EFF has taken [Solomon Mahlangu's] spear and will continue the fight until land is fully restored and the fruits of freedom benefit all our people," the party stated.
Article by : Rebecca Davis
Article source : Daily Maverick.
Source:Daily Maverick.