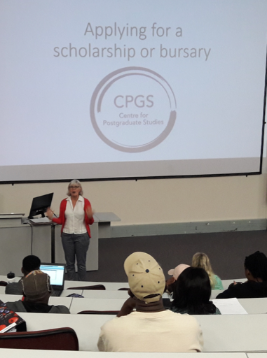 By Thandokazi Silosini, MA in Political and International Studies
On Tuesday 21 May, postgraduate students eagerly walked into Eden grove Red, where Prof Sioux McKenna was facilitating a workshop on how to apply for scholarships or grants. As postgraduate students and researchers we all know the difficulties that one can encounter in the process of completing their postgraduate studies. Many of those difficulties have to do with securing funding to complete their research.
From travelling to the different sites to collect data samples or meet with your research participants, to attending the necessary workshops and conferences to disseminate your research, all of these can lead to a lot of expenses that one may not be prepared for – never mind the cost of fees. Scholarships and research grants become important for postgraduate students because over and above paying for your tuition and living expenses, you might need to hire a car for a week to travel between Makhanda and the site of your research or you may need money to travel to a conference.
Thankfully, at Rhodes University between the Postgraduate Funding office together and the NRF and other funders, one can find many scholarship and research grant opportunities. As someone who has been on both sides of the funding application process having applied for numerous grants with and for her students and having sat on selection panels of funding boards, Prof McKenna gave a guide on how to make sure your application is a cut above the rest.
Three important things to remember when applying are; firstly, make a case for why your research needs to be done. Secondly, show your competence and make a case for why you are the person to do it. Finally, show the funders how your research meets their agenda or is in line with their aims or mission. In order to do these things Prof McKenna says, read the funding criteria, requirement and all the information given about the application process thoroughly. The last thing you want to do is fill in an application incorrectly or bother the funders with queries that are addressed on the application or website.
Furthermore, do a bit of research about the funders. Find out their aims and objectives and tailor your wording to their aims in order to show that you are the applicant that they are looking for. Finally, give yourself enough time to complete everything and to remind your referees in advance about your reference letters. On the subject of references, Prof McKenna strongly advises that students use their supervisors as a reference because they are in a very good position to vouch for their students. Furthermore, supervisors can connect you with other funding opportunities in your field.
Source: CPGS
Please help us to raise funds so that we can give all our students a chance to access online teaching and learning. Covid-19 has disrupted our students' education. Don't let the digital divide put their future at risk. Visit www.ru.ac.za/rucoronavirusgateway to donate