Yanela Ndabula, Psychology PhD student
The 2019 Rhodes University postgraduate conference was held on 22 and 23 August at the Education Department. This is a platform for students from the various faculties to get together and showcase the excellent work that takes place across campus all year.
Around 90 postgraduate students at different stages of their research journeys presented their research. The theme was Joining the academic conversation which was extended the discussions from last year's conference where the theme was Postgraduate education as a public good. With this conference, we sought to make explicit how all researchers are taking part in a bigger conversation. Two panel discussions took place both engaging in the question of academic research as a conversation, first with experienced academics and then with postdoctoral fellows.
On the first day, Dr. Peter Clayton welcomed an enthusiastic audience to the conference by speaking about the importance of research and publishing in local and international journals. He further alerted the conference attendees about how the Global South has an important contribution to make in research production but also warned about the rise of exploitative predatory journals.
Delegates had to select between four streams of oral presentations, flexibly moving in between sessions according to their interest throughout the day. This was their opportunity to share their part of the conversation or participate in other students' conversations.

Conference conversations included considerations about whether knowledge is discovered, constructed or developed and whether knowledge has to have an immediate application. Significant emphasis was given to the responsibility the university has to the community of Makhanda, the Eastern Cape, South Africa and beyond. It was agreed that the close ties between research and community engagement are a strength for many postgraduate students at Rhodes University.
Professor Sioux McKenna held an interesting presentation on the uses, abuses and myths about the software programme Turnitin. In this talk, she lessened the anxiety and panic associated with the use of Turnitin and encouraged students to think of it as a companion that can tell one important things about one's produced text while focusing less on plagiarism.
There was also an opportunity to engage with deliberations about graduate attributes and how it is that one acquires the knowledge and skills relevant to undertaking research at the frontiers of a field. There was general consensus that fundamental to making such a contribution is an understanding of what the conversation is at those frontiers – and this involves extensive reading and discussion with those already researching the particular phenomenon.
At the end the conference, winners of the #tweetmythesis competition were announced. This is an annual competition that motivates students to think about their argument statements in innovative and gripping ways. Many students walked away with vouchers and USBs.
The conference is organized by a student committee in collaboration with the Centre for Postgraduate Studies. This year's conference team were: Joy Joseph, Manda Kambikambi, Kopano Mokoena, Yanela Ndabula, Nnamdi Nwahara, Tandokazi Silosini, Smanga Simelane, Charles Teta, Mazvita Thondhlana, and Tsephiso Nyopa. With special thanks to Lavern Sias at CPGS for all the support.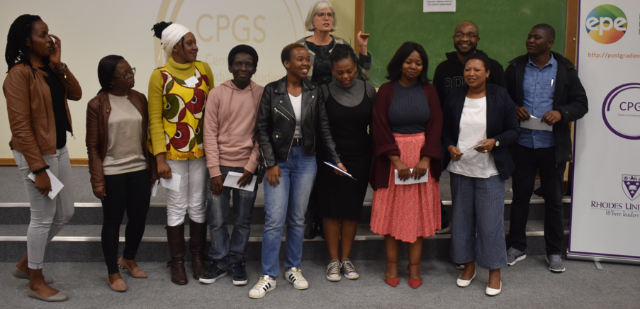 Source: CPGS
Please help us to raise funds so that we can give all our students a chance to access online teaching and learning. Covid-19 has disrupted our students' education. Don't let the digital divide put their future at risk. Visit www.ru.ac.za/rucoronavirusgateway to donate