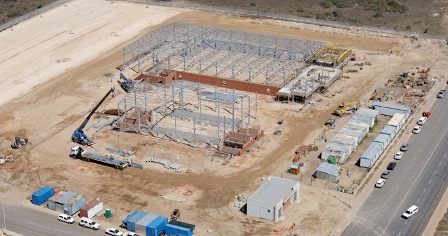 THE Coega industrial development zone (IDZ) has reduced Nelson Mandela Bay unemployment levels and also has the potential to uplift other parts of the Eastern Cape.

This was the finding of research done by Rhodes University's Lloyd Etherington, who presented a paper on the effect of IDZs on employment in South Africa at a conference for emerging scholars and postgraduate students hosted by Nelson Mandela Metropolitan University (NMMU) yesterday.

The conference — initiated by the Department of Economic Development — featured research papers by NMMU, Walter Sisulu, Fort Hare and Rhodes students.
Etherington said the Coega IDZ had managed to create a steady employment base in Nelson Mandela Bay as the zone continued to grow in foreign direct investment, jobs and skills transformation.

Since 2009, the Coega IDZ had created 50 000 jobs, of which 86% were for people living in Nelson Mandela Bay — many on the outskirts, in Motherwell and surrounding suburbs.

"The Coega IDZ continues to develop and attract investment from around the world and could impact positively on the rest of the Eastern Cape," Etherington said.

He was responding to criticism that there was a huge difference between the western and eastern parts of the province and that the IDZ only benefited the western part.

Cooperative Governance Minister Pravin Gordhan, the keynote speaker at the conference, said the decision on where to invest into the IDZ went back more than 10 years.

However, it was a valid question to ask: why was there such a harsh distinction between the two parts of the province? "The IDZ was lying fallow for a while, but there has been some significant activity recently.

"It is an investment that we should continue to grow," Gordhan said.

Etherington's research found that the country's five IDZs did not yet yield job results justifying the amounts of government money invested into the IDZ programmes.

Compared with Chinese IDZs, Etherington said, the South African IDZs did not have such rapid growth, but offered better working conditions.

Etherington said the Coega IDZ's wages and working conditions were on a par with other industries, and well above minimum requirements.

"Working conditions and remuneration were of a high standard, as opposed to China's low wages in [its] IDZs," Etherington said.

The Coega IDZ employed the most people of all the IDZs in the country, and generated the most revenue.

He used census data and personal interviews with Coega Development Corporation staff and an employer at the IDZ in his research.

Article by Cindy Preller
Article Source: Herald
Source: Herald
Please help us to raise funds so that we can give all our students a chance to access online teaching and learning. Covid-19 has disrupted our students' education. Don't let the digital divide put their future at risk. Visit www.ru.ac.za/rucoronavirusgateway to donate