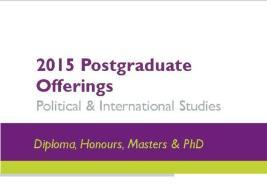 The Department of Political and International Studies at Rhodes University offers a range of post-graduate study options at PhD, Masters, Honours and Diploma levels. Masters degrees are offered by course-work and thesis or by thesis only.
The Department encourages critical thinking about politics and society, nationally and internationally. We aim to produce graduates who will engage with unfolding debates – theoretical, practical and policy-directed – in a skilled and articulate fashion.
Our well published teaching staff have wide-ranging research interests in various aspects of Political and International Studies. The department attracts academic visitors on a regular basis, hosts an annual colloquium on 'Thinking Africa' and a week-long Teach-In on a contemporary political topic and co-chairs a weekly Critical Seminar series in which postgraduates are encouraged to participate. In 2015 its Visiting Nelson Mandela Professor is Professor Lewis Gordon from the University of Connecticut, USA.
The Honours and Masters programmes in Political or International Studies offer courses which deal with issues such as Qualitative Research Methodologies and Methods, Understanding Domination, The Politics of Collective Action, IR and Global Governance, African Political Economy, Africa and the New Wars, Poverty and Privilege, Theory from the Global South, Understanding Domination, Frantz Fanon-Fifty Years, Politics of the Body, The Politics of Social Policy, Democratisation in South(ern) Africa, Foreign Policy, West African Security, Peace and Conflict Studies or African IR.
The Diploma in International Studies (African Diplomacy and Peacekeeping)is a one year programme open to students with a first Degree, not necessarily in Politics or International Relations. Courses can include Peace and Conflict in Africa, Africa's International Relations, Africa and the New Wars, Environmental Politics, Development Studies or African Political Economy.
Postgraduate students are encouraged to apply for tutorships.
For more information please contact:
Departmental Administrator: O.Cumming@ru.ac.za,
Tel: +27 (46) 603 8356;
Fax: + 27 (46) 622 4345.
To apply:
Application forms can be downloaded from the Rhodes website at www.ru.ac.za
Direct inquiries to the Academic Administration: academicadmin@ru.ac.za
Rhodes University
PO Box 94
Grahamstown, 6140
Tel: +27 (46) 603 8889
Source: Political & International Studies
Please help us to raise funds so that we can give all our students a chance to access online teaching and learning. Covid-19 has disrupted our students' education. Don't let the digital divide put their future at risk. Visit www.ru.ac.za/rucoronavirusgateway to donate