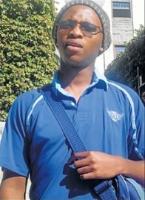 THE son of a Rhodes University gardener has graduated with a BSc.
But Vuyile Sixaba's degree is no ordinary one. Over three years and against all the odds, the exceptional student scored an unbelievable 19 distinctions out of 22 modules, including in a seemingly impossible triple major in maths, applied maths, maths statistics and physics.
Sixaba was born in Fingo Village in Grahamstown. He attended impoverished township schools that remained deeply disadvantaged from years of apartheid.
But, adversity spurred him on and he matriculated from Nathaniel Nyaluza Secondary School with four distinctions, scoring a perfect 100% for mathematics. "It was sheer hard work that got me here. Work and God and my family."
His mother, Nomathemba, who works in the university's grounds and gardens department, would even do his household chores so that he could focus on his studies.
His friends Smangaliso Mqubuli and Sivuyile Madikane, and his former maths teacher Dr Humphrey Atebe, generated in him a lifelong love of learning. Atebe - who sadly died in 2012 - never lived to see his beloved student graduate.
In 2011, Sixaba was awarded a full university scholarship from the Square Kilometre Array Africa global collaboration, which is part of an international group building the world's biggest radio telescope.
Sixaba is now doing his joint honours in physics and applied maths. He is adamant that there are ample opportunities for hard-working young South Africans who want to study further. "Too many young people seem to want things on a silver platter without putting in the work. Life doesn't work like that."
Sixaba says it is his beloved 94year-old granny Agnes Sixaba's greatest ambition to see him land his first job before she dies.
But Sixaba is neither materialistic nor extremely ambitious.
"I am not too sure what I am going to do with my life. Whatever I do, I will make time to do research as well. I don't want to be rich; I just want to be successful at what I do and have a stable job. I want to be able to provide for my family."
Rhodes vice-chancellor Dr Saleem Badat yesterday (Friday, 25 April 2014) said Sixaba had an incredible intellect but he could easily have become one of South Africa's three million youth who could not find education, training or employment. "What a tragic loss of talent that would have been."
He said Sixaba's achievements had inspired Rhodes to mobilise even more funds for financial aid.
By Adrinne Carlisle
Source: Daily Dispatch
Source: Daily Dispatch
Please help us to raise funds so that we can give all our students a chance to access online teaching and learning. Covid-19 has disrupted our students' education. Don't let the digital divide put their future at risk. Visit www.ru.ac.za/rucoronavirusgateway to donate