By Kopano Mokoena, Master's Student in Institute for Water Research
The existence of vast amounts of information- a lot of it free- on the Internet might suggest that the library has outlived its usefulness. But has it?
The Rhodes University librarians proved otherwise in a short "Using the Library for Research Purposes" workshop on Thursday 23rd May 2019. They demonstrated how the library has evolved from traditional functions of research distribution into areas of enriched discovery, analytics, productivity and research workflow. This was presented by each faculty librarian through several presentations on Research support and Consultation, Library resources, Reference management tools and Researcher identity.

One of the services the Rhodes Library provides is research support and consultation, which gives insights and information about library services, subject collections, inter-library loans and postgraduate library privileges. The library web-page is the starting point, and has links and portals to these wonderful library services. It is important to get a library account to manage your loans and requests, and also to have off-campus access to resources provided by Rhodes University Library.

Keeping all your documents in one place sometimes becomes quite tricky, and hard to keep in order. Science & Pharmacy Principal Librarian, Thandiwe Menze, presented Reference managers- a computer program or plug-in- and how using a reference manager allows you to keep references of all your literature in one place, improves organisation, sharing references with supervisors or work groups and simplifies your referencing methods and research workflow. There are a number of these management tools such as Refworks, Mendeley, and Zotero. The library can assist in introducing you to these reference managers including how to import references and manage them.

But where would you get more references? The library!
Although using a tool like Google Scholar can give you a good starting point, there are some tools you can use and rely on to improve your literature research. The library web page offers links to multidisciplinary research databases such as Scopus, Web of Science, ProQuest Ebook Central, Journals, RU Theses & Dissertations and many more. To get the best of these services, your faculty librarian can really help you by suggesting resources and strategies to use while searching for information.

Scholarly Communications liaison, Debbie Martindale, offered a presentation on research identity and its importance in building one's digital online presence to promote and connect your research to a wider audience. She offered several platform suggestions such as ORCID, ResearchGate, and Publons. Ms Martindale also highlighted the current drive to open access research globally. As a Rhodes Scholar you can access Rhodes Digital Commons which hosts academic articles, conference papers, reports and data from fellow Rhodes staff and students.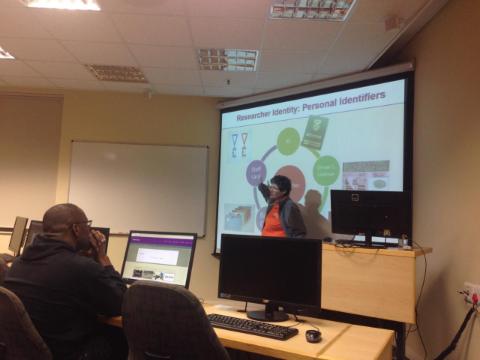 Scholarly Communications liaison, Debbie Martindale
See how amazing the library still is?
To access all this information and further details, sign up for a library account on the library web page and contact the faculty librarians to fuel you research journey.
To find out more about off-campus access, take a look at this short video.
Please help us to raise funds so that we can give all our students a chance to access online teaching and learning. Covid-19 has disrupted our students' education. Don't let the digital divide put their future at risk. Visit www.ru.ac.za/rucoronavirusgateway to donate