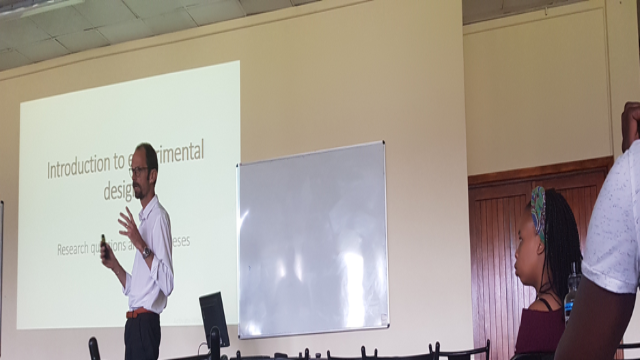 By Manda J Kambikambi, Department of Ichthyology and Fisheries Science student

What is experimental design? Experimental design is the process of planning a study to meet specific objectives. It is a fundamental skill for researchers. However, for many postgraduate students this is the first time one is in charge of their own research project - with supervision! Although very exciting, this can also be very intimidating. No one wants to be halfway through a research project only to discover flaws in the experimental approach that render the results meaningless. So where does one begin?
On the 28 th of March 2019, a one-day workshop organized by the Centre for Postgraduate Studies, brought together postgraduate students and expert researchers, who took them through some key issues to consider in designing a study. The postgraduate students hailed from different departments and there was something for everybody.
Professor Tony Booth, Dean of Science, kicked things off with an overview on research questions and hypotheses. The Professor took the students through the types, formulations and reporting of hypotheses. He explained that a well-crafted hypothesis gives a researcher the best way of performing research gives clues to the research design. Dr Amos Chinomona from the Department of Statistics, followed this up with a presentation on data in its varied forms. Students had many questions pertaining to their data which led to a lively interaction between students. A critical factor highlighted was that the data that one collects answers the research question.
Professor Horst Kaiser from the Department of Ichthyology and Fisheries Science, discussed how to design an experiment, what to look out for when designing and experiment and the statistical analysis to follow. This inevitably led to a discussion on the bane of many student's existences, the P-value, commonly used in hypothesis significance testing. Unfortunately, no statistical test was carried out to test if the student's feelings on the subject were of any significance. Professor Martin Villet from the Department of Zoology and Entomology closed things off with a talk on qualitative data which humanities and social sciences students found particularly useful.
Overall, students went away with a wealth of information on experimental design which will assist them in their ongoing studies. The Centre for Postgraduate Studies will follow up this
introductory workshop with an introductory course on Using R in July. The short video in the link below provides more information:

https://www.youtube.com/watch?v=iFklW5KSFoE
Postgraduate students can find information on upcoming postgraduate events at:
https://www.ru.ac.za/postgraduategateway/
Please help us to raise funds so that we can give all our students a chance to access online teaching and learning. Covid-19 has disrupted our students' education. Don't let the digital divide put their future at risk. Visit www.ru.ac.za/rucoronavirusgateway to donate