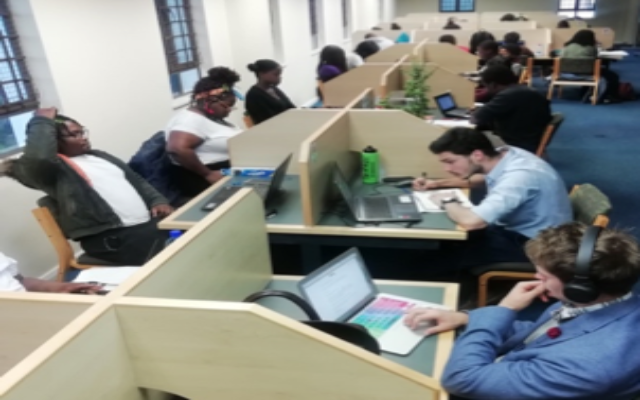 Yanela Ndabula – PhD student in Psychology
The very first Writing Marathon, or Writathon, was held on Friday, 24 May by the Centre for Postgraduate Studies in collaboration with the Rhodes University Library. Teams of postgraduate scholars came together, set loose and wrote for eight hours. The room was buzzing with activity as groups were hard at work competing for the grand prize while also smashing their writing goals for the day.
We knew many of the teams meant business the minute they arrived in coordinated outfits such as matching t-shirts and heels and traditional attire, with one team even bringing pot plants to provide an environmental awareness to the day's events. The teams had catchy names such as Irritable Vowel Syndrome, Friends with deficits, Write or die, and The Cosmopolite Wordsmiths.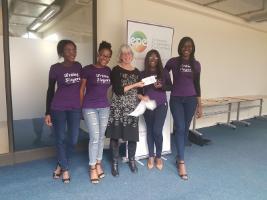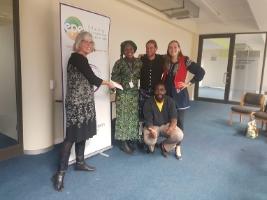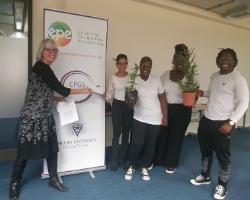 Thirteen teams took part, each consisting of four members. The Pomodoro technique was used throughout the day which spaces work in 25 minute blocks followed by 5 minute breaks. This writing in short bursts in the company of others is an effective tool for focusing on a particular task and powering through distractions.
It was strictly "Bum on seat" during a Pomodoro and Facebook, Twitter, Emails and Instagram were banned for the duration. Each team member was expected to complete four Pomodoro sessions (two hours of writing) using this time to work on their thesis, research paper or story. And lastly, and a rule that we were uncompromising about, was that team members were encouraged to have fun!
All teams successfully completed a total of sixteen Pomodoros. Everyone walked away with a USB and each team also won a R200 voucher from the Rat & Parrot. The winning teams won an added bonus of a book or airtime voucher.
Look out for the next Writathon and in the meantime, if you are looking for a supportive peer-led space for writing for writing your thesis please join us for silent Pomodoro sessions at Margaret Kenyon Reading Room, Main library (4th floor) every Tuesday from 2pm to 4pm. All welcome!
Source: CPGS
Please help us to raise funds so that we can give all our students a chance to access online teaching and learning. Covid-19 has disrupted our students' education. Don't let the digital divide put their future at risk. Visit www.ru.ac.za/rucoronavirusgateway to donate