This page offers research tools used by our research team. Please click on a link to go to:
Our resources are based around the development of the 5 interwoven strands of Mathematical Proficiency as proposed by Kilpatrick, Swafford and Findell in 2011 (Kilpatrick, J., Swafford, J., & Findell, B. (2001). Adding It Up: Helping Children Learn Mathematics. Washington DC: National Academy Press.)
---
Research Frameworks and Methodology
Mathematical Proficiency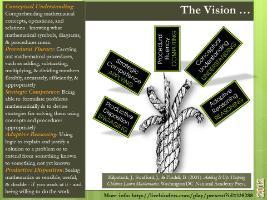 ---
Productive Disposition
Coming soon. See data collection instrument in section below
---
Maths Recovery Programme
Learning Framework in Number (LFIN)
---
Vygotsky and Zone of Proximal Development
---
Action Research / Lesson Study
---
Literature Review
Article Info Template (in MS Word template format) Use this template to reflect on readings as you do them. They can be a useful scaffold in the early stages of reading for organising your thoughts and ideas. Fill out the template by double clicking on it. Alternatively, open it and print out copies to write on. A sample: Sample Article Info
---
Methodological
---
Data Collection Instruments
A key aim of our work is to support learners in the development of mathematical proficiency which we take to be defined in terms of Kilpatrick, Swafford & Findell's (2001) five interrelated strands of conceptual understanding, procedural fluency, strategic competence, adaptive reasoning and productive disposition. We have several instruments to help us monitor learners evolving levels of proficiency in terms of the first four strands (including, Wright, Martland and Staffords (2006) assessment interviews, but we did not have an instrument which specifically engaged with the fifth strand of proficiency. We needed to monitor the learners' evolving dispositions in the clubs and the classrooms in order to see whether our work with teachers and learners was having any impact on this important aspect of mathematical proficiency. This instrument has been used as:
an interview instrument with our club learners
an orally administered but written response instrument given to all Grade 3 and 4 learners across all the schools that we work with in our project
Download an editable version of the Productive Disposition instrument. We welcome feedback on how you have used it in your own context.
---
Mathematical Proficiency Interview
The instrument is a combination of items from Wright et al (2006) and Askew et al (1997) and consists of 24 tasks in total. Individual questions are grouped together to constitute a full picture for a particular aspect of early numeracy, for example conceptual place value. Learners were interviewed in their language of learning and teaching (LOLT) with translation into their home language where necessary.
Download more information about the sturcture of the instrument: MP Interview - Structure
---
In our after-school maths clubs we endeavour to develop and track learner progress in procedural fluency. Kilpatrick et al's (2001) 5 interwoven strands of mathematical proficiency include that of procedural fluency, which they describe as "skill in carrying out procedures flexibly, accurately, efficiently and appropriately" (p. 116). One challenge we have is how to determine if the learners make progress or not in procedural fluency during their time in the club.
This series of tests (developed by Debbie Stott and Mellony Graven) are used regularly in the clubs to monitor progress in Procedural Fluency, specifically in speed and accuracy.
There are many ways of developing procedural fluency in young learners and in the clubs and we focus on developing this explicitly and implicitly through the activities we undertake. Askew (2010) believes that developing procedural fluency is "best done little and often rather than in less frequent, longer blocks of time" (p.27). He argues that practice in procedural fluency needs to be simple to set up and do, be done little and often, keeps learners focused on the maths and helps the learner see their own progress (p.28).
The tests may be of interest to educators as they are quick and easy to administer and to mark. They allow one to see how quickly learners are answering in the given time period and how accurate they are in answering in that time. The changes in these scores over time give one a picture of progress.
There are 7 different tests to choose from and the learners are given a specified amount of time to complete each task. The document below describes each test, and details the time allocation and total marks for the test and contains the master sheets for printing. Download Fluency Tests.
---
NB Many of these are available from our Core Numeracy Readings page.
Askew, M. (2010). Do It Again. Teach Primary, 27–28. Retrieved from http://www.teachprimary.com/resource_uploads/do-it-again.pdf
Askew, M., Brown, M., Rhodes, V., Johnson, D., & William, D. (1997). Effective teachers of numeracy. London: London: King's College/TTA.
Kilpatrick, J., Swafford, J., & Findell, B. (2001). Adding It Up: Helping Children Learn Mathematics. Washington DC: National Academy Press.
Stott, D. & Graven, M., 2013. Research tensions with the use of timed numeracy fluency assessments as a research tool. Perspectives in Education: Special Issue on Primary Mathematics, 31(3), pp.79–93.
Wright, R. J., Martland, J., & Stafford, A. K. (2006). Early numeracy: assessment for teaching and intervention. London: Sage Publications Ltd.
Last Modified: Tue, 29 Nov 2016 15:42:19 SAST