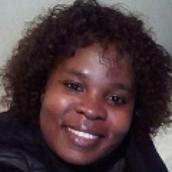 Erlina Afonso Nomboro Cossa was born on June 2, 1983 in Gurué, Zambezia province, Mozambique.She is the daughter of Afonso Nomboro Cossa and Flora Micael Mahanjane who were both peasants and deceased.
She graduated from Universidade Pedagógica, in Mozambique. She started her career in 2013 as a Portuguese teacher for foreigners in the Peace Corps in Mozambique. In 2014, she started working in a Mozambican public school until 2017. Empowered by the Peace Corps projects in 2018, she began to work as an adviser to the installation committee of the Polytechnic Institute of Petroleum of Mozambique and participated as a resident commentator of the social programs of television in Mozambique.
She is a mother to a young boy and passionate about poetry, music and human rights. She writes poetic texts published on her page, Poemas e Literatura on Facebook, which express the diversity of worldview in various aspects, externalizing love, passion for life, thirst for social justice, equality and the value of being a woman in a world where little is valued.
She is a social activist. In 2018, she joined the activist youth movement in Mozambique, where he found the opportunity to fight for social courses. She is currently a student at the Sol Plaatje Institute for Media Leadership at Rhodes University.
Last Modified: Fri, 15 Mar 2019 14:18:19 SAST