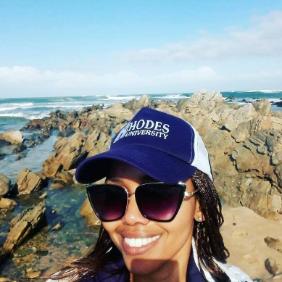 Kgomotso Molefe is a lively young lady from Botswana, with a passion for education, her country, podcasts and God. She holds an English language and literature degree from the University of Botswana, which she completed in 2010. Kgomotso worked as a peer educator in public schools after graduating, where she taught guidance counselling classes, facilitated leadership and workshops and edited the guidance and counselling department magazine.
After two years as a peer counsellor, she shifted industries and became an account executive at an events management and public relations consultancy. In 2016, Kgomotso decided to relocate to South Africa and return to school. She recently completed a BA in Organizational Psychology and Journalism (specializing in radio) from Rhodes University and is currently pursuing her post-graduate media management diploma through the Sol Plaatje Institute of Media Leadership at Rhodes University.
"I am excited about the opportunity to learn about the business of running a media organization. Most importantly I am excited to have the skills to help media organizations survive and thrive in the unpredictable new media landscape," she comments about her studies at the Sol Plaatje Institute of Media Leadership.
Her aspirations for the year include advancing her business ventures and to complete the registration of her NGO in Botswana which focuses on education and equipping girls in media.
Last Modified: Fri, 15 Mar 2019 14:18:43 SAST