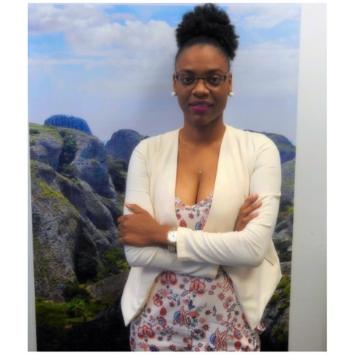 Nadine Dilay João Lavrado was born at the end of the 80s in Huila, one of Angola provinces located by the south of the country. She had a very hectic childhood, moving from town to town with her adventurous parents, which taught her how to be adaptable in every situation, city or country. With a very reserved and quiet personality, she enjoys a peaceful time with books, playing her saxophone and travelling around the world.
Nadine completed her Bachelor degree majoring in International Relations studies at Lusiada University in 2012. In 2009, she got her first job as a TV host on a Brazilian TV channel called TV Record, working for them for a year straight at the age of 19. With this job, she was able to visit many cities within Angola, meet different kinds of people and engage in different cultural aspects. She thereafter worked at a bank as a commercial assistant.
In 2012, she decided to take 9 months and travel to New York to improve her proficiency in English starting at EF English School. During this period, she was able to get to know people from different parts of the world, engage in cultural activities and travel within the USA. On the following year, 2013, she pursued her Master's degree in International Business at Hult International Business School in California, which was not completed due to reasons beyond her control; still, it was one of her greatest experiences as she was able to network with people within the business industry. She also did internships in companies chosen by the school for a period of 30 days and participated in board meetings to have a clear view of how executives make decisions.
In 2014 she headed back to Luanda, where started working as a Corporate Manager for great companies in a local bank, a role she endured for 4 years. In between that time, she also had a very participative role in the community, working with charities, joining fundraising groups, engaging in marches in favor of gender equality, human rights and started engaging more in entrepreneurship, taking the first steps on building her own company related to communication, media and publicity in business. Currently, she is pursuing a Post Graduate Diploma in Media Management at Rhodes University, a course that will level up her knowledge and serve as a lever to continue her entrepreneurial side.
In the 30 decades of her existence, she believes she is a key factor for changing her environment, she has a key role on serving her community in order to motivate and engage people into actually doing to change the status quo, change issues around gender equality, human rights, entrepreneurship. Often described as a quiet, resilient, kind and of a strong persona, she is ready to do her part in favour of the whole.
Last Modified: Fri, 15 Mar 2019 14:19:27 SAST