Rhodes > SPI > People > Siphokazi Mathe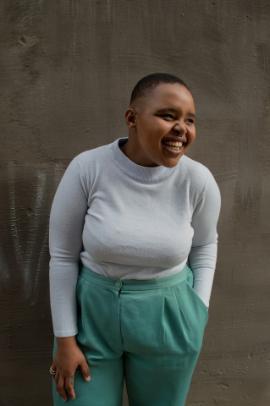 My name is Siphokazi Tsienyane Mathe, from Durban, KwaZulu Natal. I am a postgraduate student at Rhodes University – having completed a triple major Bachelor of Arts degree in Law, Politics and International Studies, and Sociology; as well as a joint Bachelor of Arts Honours degree in Sociology and Politics and International Studies. My studies have largely been centred on African commodities, feminism, gender and development, and the representation of black people and minorities in the African continent and within the global spectrum. Moreover, I am excited to broaden my knowledge with the Postgraduate Diploma in Media Management.
I am an interdisciplinary thinker currently exploring the nexus of media, sociality and commodities in Africa, and more especially the impact of the aforementioned on Africa and African minorities. And as such, I have created a space called Slow Sunday Social Market which celebrates black women, creatives, entrepreneurs and queer individuals. I am also the President of the Rhodes Entrepreneur Society and a fashion writer for the Faculty Press publication.
Last Modified: Fri, 15 Mar 2019 14:19:09 SAST