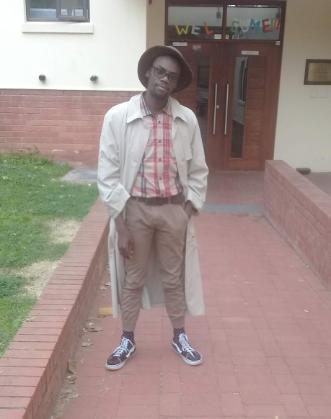 Hi, my name is Sthembiso Thabo Trevor Velamumva Ngwekazi. I am a 22-year-old (going on 23), who is a very passionate and unashamed Leo. I have a strong linguistic fluency in isiZulu and English, I have some fair fluency in Sesotho, Setswana and Sepedi. Multilingualism, particularly African multilingualism is one of my strongest passions. I was born and raised in Volksrust in southern Mpumalanga, I have three older siblings with me as the youngest. I count myself as one of the privileged and fortunate individuals as I still have both my parents and can count on them for both emotional and material support.
I attended the first nine years of my school career in my hometown of Volksrust. I changed schools from Grade 10 and moved to live with my maternal aunt in Pretoria. This move opened my eyes to the wider world that I had always been imagining and dreaming of as a child. After matriculating from high school in 2014, I was accepted at Rhodes University for a Bachelor of Arts (BA) degree. I completed my degree majoring in Psychology and Anthropology in 2018. My drive to learn and inquisitiveness is almost unquenchable and is driven by almost anything. Whether it would be a book, a magazine or a new gadget.
On the academic front, I would like to do research and potentially write papers on issues greatly affecting African people more so on the continent. The Postgraduate Diploma in Media Management (PDMM) has some of the skills that I believe will serve me well as both a practitioner of media management and as an academic. The media organizations that I particularly aspire to be associated with are those that align closely to the personal values, which I believe, might better the lives of some citizens of Africa. These values include amongst other things: teaching and empowering the African people, especially women; ensuring that the inequality gap between rural and urban Africans is lessened or bridged; prioritizing the contextualized and equity-based dissemination of education and the inclusion of other marginalized groups such as the LGBTQIA+ community.
Describing Sthembiso is not something that I would say could be adequately captured by the words that I would and could write. Self-bias might be the main culprit, which might lead me to write, or emphasizing all of my good qualities and ignoring all other ones. However, what I will mention is that I consider myself as someone who is shy but also very talkative, loud and silent all at once. I am determined and persistent once I get an idea, which I believe, is right. On the same front, I am willing to accept and to be taught different information. A friendly smile and a respectful greeting are usually what makes a person much more than a stranger. Of my favourite things in the whole world the colour red, SZA and her music reign supreme, so does my love for travelling, good food and writing.
It is said that media managers are responsible or involved in the market of attention or they are faced with the task of getting people (audience) to interact with their content usually with a monetary bottom-line. I wish to be someone who challenges and changes the status quo in all places I might find myself in so that observers can clearly see that Sthembiso TTV Ngwekazi, an alumnus of the Rhodes University PDMM had been involved in whatever transformed organisation or institution I might be affiliated with in the future.
Last Modified: Fri, 15 Mar 2019 14:18:58 SAST