Rhodes > SPI > People > Urielle Kayumba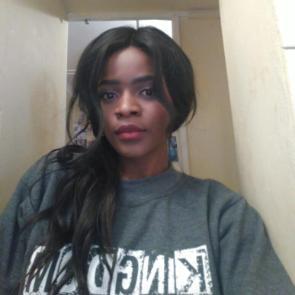 My name is Urielle Kayumba – it means light and I firmly believe that I am living up to my name because I do what light does; to make things visible (just like a journalist). I could also let you know about my ability to wake up as an ordinary African Woman and dazzle you with my fashion prowess while looking like a professional model in front of the lens. I am multi-lingual as I speak fluent French, Swahili and I understand basic isiXhosa.
I am a young and vibrant lady originating from the tropical Democratic Republic of Congo. If there is one thing I remember vividly about my childhood is that, I have always had a knack for media, because I simply love telling, hearing and conveying stories. My uniqueness is found in the lines of engaging easily with strangers and making them feel comfortable to keep holding conversations with me. I am also different in that I blend well in various settings, even in territories that are unfamiliar to me. Throughout my studies, I have had prestigious opportunities to be involved in various Media and Journalism projects, which have strengthened my skills and knowledge in this regard. I have produced content for local radio stations (namely, SA FM, Radio Grahamstown and Rhodes Music Radio) and for online newspapers (e.g. Cue Online). I can, therefore, affirm my exposure in the media industry. My goal is to bring change by drawing people and eligible authorities to consider working together to teach, train and equip citizens with these much-needed media critical skills.
Last Modified: Fri, 15 Mar 2019 14:19:04 SAST