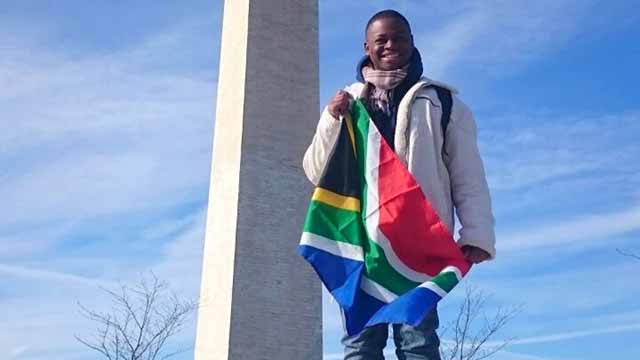 Third year Politics, Journalism and Media Studies student Kyran Blaauw is one of four South African undergraduate students selected to participate in the highly competitive 2018 cohort of the Study of the US Institute for Student Leaders Programme.
The five-week program, which kick started earlier this month under the theme 'Civic Engagement' aims to provide groups of undergraduate student leaders with a deeper understanding of the United States, while simultaneously enhancing their leadership skills.
Blaauw, from the Karoo town of De Aar in the Northern Cape and a student from the Nelson Mandela University will represent the Cape Region in the programme.
"It really feels good to know that other people believe in your potential. This opportunity could not have come at a better time in my life. I am excited to learn more about the civic engagement and social change in the US and share my knowledge about South African civic engagement and social change projects with others. I am also eager to learn more about grass-roots student activism and volunteerism," enthused Blaauw.
He considers this an important opportunity to understand the US's social and political dynamics. The programme is made up of an academic residency, a one-week study tour to a different part of the United States, leadership sessions, community service activities, as well as a chance to get to know American citizens who have shaped US history, government, and society both as individuals and groups.
It will focus on democracy, citizenship, and civic activism. Other topics such as civil rights, entrepreneurship, ethics, leadership, and media will be discussed. Students will also have the opportunity to leave the classroom to meet with community leaders, entrepreneurs, and representatives of non-profit organizations.
Kim McClure, Deputy Public Affairs Officer, of the Consulate General in the US congratulated Blaauw and said that his selection was testament to his hard work, determination and motivation to serve your community as well as his leadership potential.
Source: Communications
Please help us to raise funds so that we can give all our students a chance to access online teaching and learning. Covid-19 has disrupted our students' education. Don't let the digital divide put their future at risk. Visit www.ru.ac.za/rucoronavirusgateway to donate