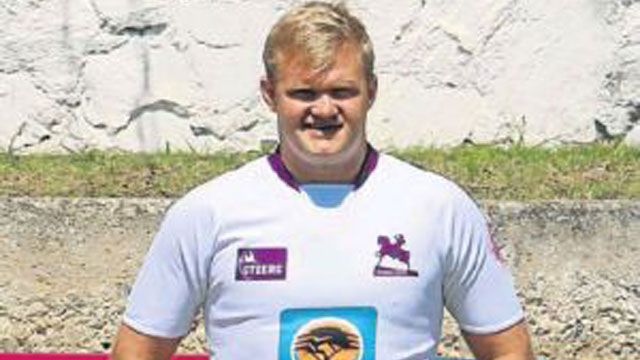 Economics honours student Jonathan Braans will captain Rhodes University's Varsity Shield team in their historic debut season in the national student tournament when they tackle the Tshwane University of Technology (TUT) in Pretoria on February 9.
Braans, who is one of the few players left from the group that secured the Varsity Shield qualification, said he was proud and honoured to be giving the responsibility of leading Rhodes University in the Varsity Shield contest.
"It is a fantastic privilege to be the captain of FNB Rhodes. When rugby coach Qondakele [Sompondo] told me, it came as a surprise – but it is a responsibility that I am looking forward too."
Braans is a Kingswood pupil who matriculated in 2012, and he had many sporting achievements during his schooling days.
He represented Kingswood's first cricket and rugby sides, and received school colours for both sports at the end of his matric year.
Braans is no stranger to leadership roles, as he captained Kingswood's first team rugby side to great success in 2012.
He expects a tough campaign for the Rhodes team, but is adamant they have prepared well and are ready to compete.
"We know how tough it is going to be being one of the new boys in the competition," he said.
"Our heads are going to be on the block each week, but we know we have prepared well."
Sompondo spoke highly of his captain's leadership qualities.
"Jono is one of the most hard working and determined guys I've coached. He leads from the front and his work rate on and off the field is phenomenal," he said.
Rhodes have played two warm-up games in preparation for the Varsity Shield against the FNB Fort Hare Blues and the Grahamstown Brumbies.
After FNB TUT, Rhodes welcome fellow new boys FNB Cape Peninsula University of Technology at the Great Field on February 13.
CONTEST HONOUR: Jonathan Braans is up for the challenge
Picture: Supplied
Source: http://www.heraldlive.co.za/sport/2017/02/01/braans-lead-rhodes-debut-varsity-shield-season/
Source: Herald Live
Please help us to raise funds so that we can give all our students a chance to access online teaching and learning. Covid-19 has disrupted our students' education. Don't let the digital divide put their future at risk. Visit www.ru.ac.za/rucoronavirusgateway to donate