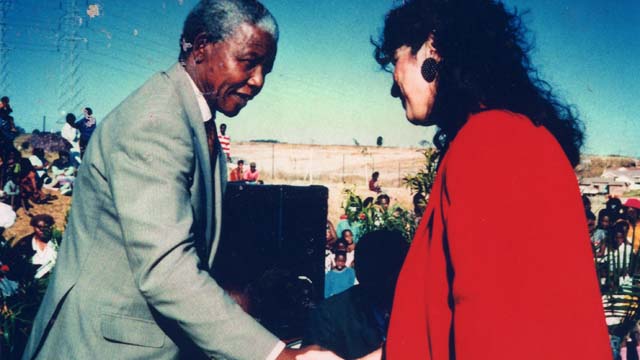 Rhodes University will be conferring an Honorary Doctorate on environmental pioneer and social justice leader, Ms Jeunesse Park, at the 17:00 graduation ceremony on the 31st March 2016.
There is always something new out of Jeunesse Park.
The founder of Food & Trees for Africa, she started as a woman alone, working from her garage in 1990 on her goal to plant trees and food gardens in South Africa's townships.
Her motive was to help improve the lives of fellow South Africans in whatever small way possible.
She would fill up her car with saplings and vegetable seed, and with her young children in tow she became a familiar figure in Gauteng's townships where she started, always with her fingers in the soil, always planting and sharing how important it is to have a green environment.
Over the past 26 years Food & Trees for Africa has established thousands of food gardens and planted well over four million indigenous and fruit trees throughout South Africa. It has raised hundreds of millions of rands to fund food and environmental programmes and school education workshops for millions of learners. Today, Food & Trees for Africa is a giant of a non-profit organisation that, when Park left at the end of 2014, employed dozens of dedicated educators and field officers.
As the trees and projects grew so did Park. She grew into an urban greening force and an environmental and social justice leader.
She has devoted her life to improving other people's lives and to helping people to understand climate change and the primacy of the natural environment: that human beings, irrespective of whether they live in a city or in the rural areas, cannot survive without a healthy natural environment.
"I plant seeds in the ground and at the same time I plant seeds in hearts and minds," says Park. "A tree is a great educator; from a tree you can learn everything about the environment – from water conservation to global warming,"
Looking back on what she has achieved since 1989, we start with her return to South Africa in 1989.
"I was married with three children and living in Joburg when we left for Australia in 1984 because we could not continue living under apartheid. We stayed there for five years until we knew that Madiba was going to be released, and then returned to Joburg to play our part in building a new country. It was wonderful to be back home and also to be near my parents."
She is the daughter of the late, legendary Mr Universe, Reg Park, and of former ballerina Mareon Park, who lives with Park at her home in Sandown today.
"Despite having been a ballerina, my mother was a real earth mother who created a beautiful garden for us when they bought a property in Athol, Joburg, which was peri-urban at the time and still very affordable," she explains.
"I loved the blue skies and green environment. It was a dramatic contrast to the coalmining area in north England from where my father originated, which was polluted, grey and dismal."
Park attributes her drive and self-belief to her father: "He was a huge influence. Every morning of my life he told me that I could achieve anything I wanted to if I worked hard and focused."
She followed this to the letter and her father was exceptionally proud of what she achieved, her social commitment and that she was a good mother to her children.
She divorced along the way but she and her ex-husband remain good friends. She re-found love with the late Frik Grobbelaar, owner of Rustlers Valley - the farm on which the legendary Rustlers Mountain Music Festival was born in 1992. It was the beginning of the alternative, outdoor music festival scene in South Africa and host to many of the first permaculture food gardening training workshops that Park arranged.
Gobbelaar's life was cut short when he died of an aneurysm in 2008.
"It was extremely shocking for me. Frik was a wonderful and inspiring man, and he encouraged me in my work. Men sometimes find strong women intimidating but not him. After his death I threw myself into my work even more."
In 2011, her work attracted the attention of former United States Vice-President and Nobel winner, Al Gore.
He had seen a video of Park speaking about her work after she won the United Nations Environment Programme Sasakawa Award for Climate Change (one of her many local and international awards). He was so impressed with her commitment and drive that he contacted her and in 2011 he trained her as the first African Climate Leader. She has since served as a mentor for his international training.
In 2014 she facilitated Gore's training of 700 new African Climate Leaders in South Africa and started his Climate Reality Project on the continent.
"The world today understands the reality of climate change but it was not until the early 2000s that this happened. Before then it was regarded as the imaginings of hippie tree-huggers, which is what I was called," recalls Park, who urges people to put effort into thinking and acting ahead of their time irrespective of what others might think of them.
Park, as always, is now busy with a new project. She has turned her attention to developing a global urban environmental programme for cities and their communities, called Nature4Cities.
Nature4Cities will be launched this year as a global and local collaborative 'city and science' leadership network aimed at inspiring city leaders and citizens to embrace the natural environment. Joburg, Durban and Cape Town are part of this.
"We are living in a world where 70% of the population is already urbanised and we are fast heading for 90%," she explains.
Nature4Cities responds to the United Nations Environment Programme's New Urban Agenda. It emphasises the necessity of urban environmental programmes that support the sustainable functioning of cities, and at the same time promote the health, happiness and wellbeing of urban communities throughout the world.
It is being implemented by the international association of local governments, known as Local Governments for Sustainability, which was founded in 1990 as the International Council for Local Environmental Initiatives (ICLEI). It is a leading network of over 1 000 cities, towns and metropolises worldwide committed? to building? a sustainable future.
"We will be working with city decision-makers, planners and businesses to promote environmentally sound decisions and developments, and with citizens to promote a culture of Nature4Cities," Park explains.
"From making cities cleaner in terms of better management of water and air pollution to promoting renewable energy and green urban planning to extending urban agriculture and hosting music events or fashion shows in the cities' parks, Nature4Cities is a culmination of the many projects I have worked on over the years."
Twenty-six years later, the single biggest problem in South Africa today, according to Park, is the lack of quality education:
"All of us have to commit to achieving a better quality of education for all, from early childhood development through to higher education. The education crisis is one of the key reasons why South Africa is at such a desperate low right now," she explains.
"What really irks me is that after having run a non-profit organisation for so long, and having scrimped and saved every cent to buy a tree or to plant a cabbage, there is so much money in government being wasted on overspending and corruption. This money should have been invested in this country's sustainability and future, such as quality education and nation-wide renewable energy and food security projects."
These initiatives are all inter-linked, says Park who sits on the board of Solar-Aid a leading international charity offering solar solutions to issues such as climate change and global poverty in Africa.
She is also on the board of the Carbon Protocol of South Africa, a not-for-profit entity, aimed at raising awareness and facilitating the transition to a climate resilient society.
And she is an advisor to Fossil Free South Africa, a network of South Africans calling for divestment from fossil fuels (and restorative reinvestment) to halt climate change and secure human rights for a collective future.
"South Africa is bathing in sunshine and yet so many people, especially in the rural areas, including schools, do not have electricity or cannot afford it. It is a no-brainer for South Africa to invest in de-centralised renewable energy instead of pursuing its obsession with nuclear and shale gas, which is so ill-advised and will cost more than we can ever imagine, both monetarily and in terms of people's health."
"I'm hoping that the work we will achieve through the Nature4Cities initiative will help to swing mindsets in South Africa and around the world, and get people at all levels working towards a better life for all and a healthier planet."
For all her incredible work, she is a most deserving recipient of an Honorary Doctorate from Rhodes University, which is her first.
"I am deeply honoured. It is a huge recognition for me because I never went to university," she says. "After I completed my matric I went overseas and travelled the world, working and exploring countries like Turkey, Iran, Afghanistan, Pakistan, India ... It was an incredible education in life but if I have any regret it is that I did not go to university."
Article by Heather Dugmore
Photograph: supplied
Source: Communications
Please help us to raise funds so that we can give all our students a chance to access online teaching and learning. Covid-19 has disrupted our students' education. Don't let the digital divide put their future at risk. Visit www.ru.ac.za/rucoronavirusgateway to donate