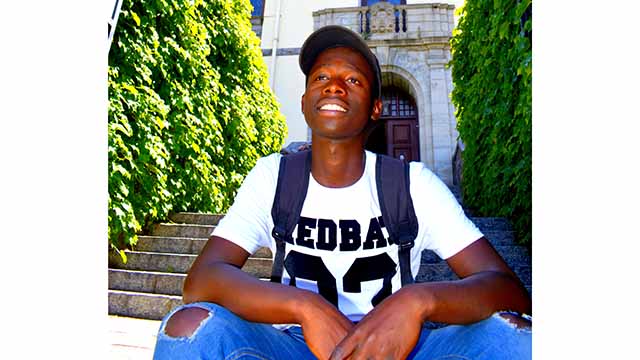 Research shows that mentees generally perform better than students without mentors. The three Grahamstown schools that were part of the Rhodes University's Nine-Tenth Mentorship programme in 2017 are testament to this sentiment as they have received a record of 52 bachelor passes - and with that a passport to embark on their higher education journey.
Aphelele Jezi was part of the Nine-Tenths programme last year. He is one of the 26 learners who have been offered a place to study at Rhodes University, while the rest will be going to other tertiary institutions. Jezi's school is Ntsika Secondary School in Joza, one of the three local schools that are part of the programme. The school was classified by the Department as a historically disadvantaged institution (HDI). He achieved distinctions for Maths, Physical Science, Life Sciences and isiXhosa, with his other three subjects in the 70s (English, Life Orientation and Geography). Ntsika made it into the top five performing schools in the District.
Nine-Tenths is a mentoring programme geared towards equipping matric students in the three participating schools, Ntsika, Nombulelo and Mary Waters High Schools to cope with their final year of school and to pass at their full potential. Pupils are given one-on-one attention by a Rhodes University students through nine guided and structured contact sessions.
Launched in 2016 and located in the Community Engagement Division, the programme has seen Rhodes University students, through a guided structure, give over 160 learners one-on-one attention as a team of students, learners and teachers from the GARDA matric school, immersed in a culture of problem-solving.
"The new record of Bachelor passes is a momentous occasion. We want to acknowledge Ashley Westaway and Nolubabalo Makombe from GADRA Education; you have been incredible partners in this programme. And lastly, well done to Anna Talbot, RUCE programme coordinator for her leadership," said Diana Hornby, Director for Community Engagement.
Lizo Tshali, also part of the programme in 2017, was the highest performer at Nombulelo high school with four distinctions after struggling with his studies for the most part of the year. "My June results were not great; I knew I needed to improve drastically in order to qualify to study sciences post matric. Enthusiastic mentoring and teaching always gets my attention. I used all the great tips from my mentor, the biggest being time management and having priorities," he recalls.
Tshila, although born eNgcobo in the Eastern Cape, shares a rented home with his two sisters in Fingo Village. He relocated from the rural areas to pursue a better educational opportunity at Nombulelo High school.
He will be enrolling for a Bachelor of Social Sciences at Rhodes University, which he plans to use to explore innovative solutions for impoverished communities like his home in eNgcobo.
Source: Communications
Please help us to raise funds so that we can give all our students a chance to access online teaching and learning. Covid-19 has disrupted our students' education. Don't let the digital divide put their future at risk. Visit www.ru.ac.za/rucoronavirusgateway to donate