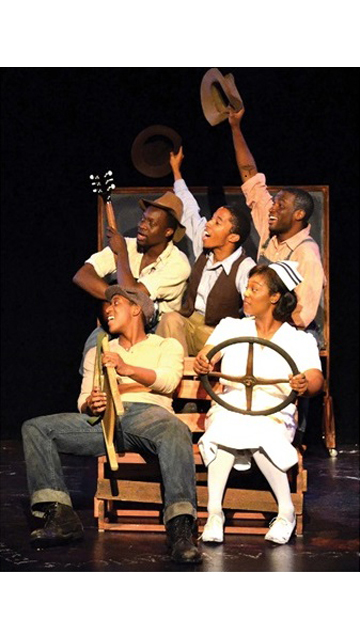 One of the oldest festivals of its kind, the Student Theatre Festival's line-up is at worst a mixed bag of the strange and delightful and at best a stunning promise of a strong future for South African theatre. As South Africa marks its twentieth year of democracy, perhaps it comes as no surprise that a large number of student plays are crafted around issues and scenes that directly affect this country's youth. Of the 16 plays on the schedule, seven have narratives explicitly located within South African borders.
The programme kicks off today with the University of the Witwatersrand's Maid in Mzansi at 4pm. The play centres on the true stories of domestic workers and is clearly geared towards a local audience. Director Roberto Queiroz, making his directorial debut at the Festival, is confident that the play will not disappoint. "We're very excited and honoured to be the opening play. It's probably scary for most people but we're prepared," he said.
The University of KwaZulu Natal is presenting two plays. Colour: Burn-out, from its Pietermaritzburg campus, follows several everyday superheroes in a taxi while responding to every call. The workshopped drama PS, from the Durban campus attempts to comment on contemporary South African experiences, taking audience members on a journey to different locations in a journey of self-discovery.
The Market Theatre Laboratory, brainchild of theatre greats John Kani and Barney Simon, brings yet another politically charged and multilingual piece to the Festival in South Venturing North which follows young people on their journey in the maelstrom that is Johannesburg.
The University of Johannesburg's The Boy Who Walked into the World, directed by Motlatji Ditodi (Kota Life Crisis), questions what it means to be a young African while the University of Cape Town's uhm tackles the dominance of the English language in South Africa and Born Free Odyssey from the Tshwane University of Technology shadows an epileptic first-time voter preparing for the 2014 general elections.
Other plays worth watching out for are Rhodes University's Solo, directed by Hannah Lax who starred as a wondrously damaged Desdemona in the 2013 adaptation of Othello, and Flesh from Oakfields College, winners of the 2013 Post Office Choice Award. The University of Oklahoma's Peggy Dow Helmerich School of Drama is also presenting Miss Evers' Boys, a production based on a controversial syphilis study performed on African-American men between the 1930s and 1970s.
Last year's winner of the Most Promising Student Director award, Mira Sydow from UCT, is presenting her new play Epoch on the Fringe Programme as part of her prize.
All Student Theatre Festival productions take place in the Rehearsal Room at the 1820 Settlers Monument except Flesh which is performed in Centenary Hall on St. Andrew's College campus. Miss Ever' Boys has been brought to the Festival by students from the University of Oklahoma.
By Stuart Thembisile Lewis
Photo supplied
Source: Cue
Please help us to raise funds so that we can give all our students a chance to access online teaching and learning. Covid-19 has disrupted our students' education. Don't let the digital divide put their future at risk. Visit www.ru.ac.za/rucoronavirusgateway to donate