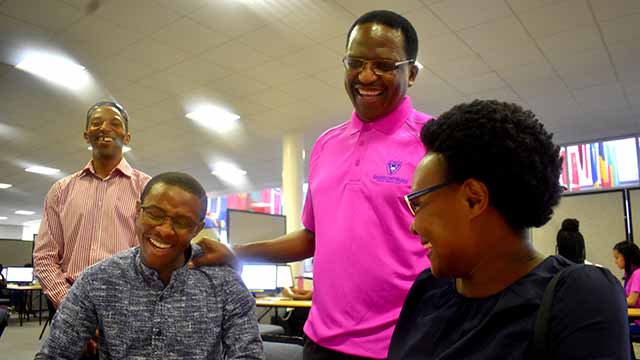 Rhodes University's 114th registration was a runaway success, with parents, management and new students raving about the efficient service as early as lunchtime on Saturday, 3 February 2018. "By 7am I was already a registered Rhodes University student. The process was smooth and we barely had to wait in queues," enthused a 16-year-old first year student.
A whooping 1 427 undergraduate admissions were processed over the official two-day weekend registration. Close to 700 students were admitted while they are awaiting their NFSAS confirmations.
Speaking on what is commonly a stressful process at the beginning of the year, Desiree Wicks, Manager Student Bureau credited an advanced system and dedicated personnel for the smooth process.
"A lot of pre-registration work and long hours from our team helps to be a step ahead. Our registration system is developed every year, and students with smart phones are able pre-register, pay their fees and get residence allocations. When they walk into our premises on official registration day, all we do is identify them, get them to sign in and within minutes a student is officially registered," enthused Wicks.
On day 2 of registration, Dr Sizwe Mabizela, Vice Chancellor for Rhodes University welcomed new students and parents at the Settlers Monument, together with the incoming SRC President, Nhlakanipho Mahlangu.
"You have been selected from thousands of applicants who were competing for the 1 700 places available at Rhodes for new students. We have very high admission requirements at this university because we have a well-entrenched culture, tradition and experience of developing and nurturing exceptional intellectual talent of young people like you," enthused Dr Mabizela.
Addressing the elephant in the room; free education, Dr Mabizela commended the South African head of state, Dr Jacob Zuma for his December announcement of free education. However, he raised a concern of affordability shared by many, stating that, "we need to work together to find affordable, sustainable mechanisms for funding for the young people coming from poor and working class backgrounds".
In her first ceremonial role as a student leader, Mahlangu burst into song that got parents and students alike onto their feet in jubilation.
"You are here to better yourself, to unlearn anything that stunts your growth and to re-learn new things about yourself, the people and the world you live in. Like many here today, I came to university to take a step towards ensuring that through my efforts, future generations of my family and community would be ensured lives much better than what I had enjoyed," encouraged Mahlangu.
On campus festivities were headed by residence and hall representatives with a fresh brand of warm reception for the young students. Music, dance moves, posters, costumes and res T-Shirts set apart the different residences. Rhodes University's returning students impressively made sure that first years did not have to carry their own luggage or wander in the halls looking for their rooms.
In addition, 264 new students moved into the new multi-million residences; Hilltop 7, 8 and 9 as first time occupants, increasing the number of Rhodes students living in the 54 residences and 14 halls to 3760.
Meanwhile, registration continues this week until 10 February for new and returning students. Late registrations will be allowed until 23 February but will carry a late registration fee of R1 300.
This week also marks the beginning of Orientation Week, packed with a plethora of on and off campus activities, both academic and social. The official term will commence on Monday, 12 February 2018.
Source: Communications
Please help us to raise funds so that we can give all our students a chance to access online teaching and learning. Covid-19 has disrupted our students' education. Don't let the digital divide put their future at risk. Visit www.ru.ac.za/rucoronavirusgateway to donate