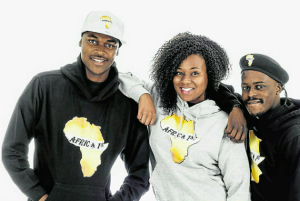 It was a love of fashion paired with a passion for African culture that inspired third-year Rhodes University student Thokozani Dladla to launch his clothing label, Africa 1st.
Born and raised in Dundonald, Mpumalanga, the 22-year-old Bachelor of Arts student arrived in the Eastern Cape to find what he describes as "another country" because it has such a strong Western influence.
Last year, he decided to put pen to paper and design a brand of clothing which appealed to his specific tastes. After digging into his own savings, he reached out to his mother who bought into his dream and assisted with the capital to officially register his company.
First on the list was sourcing a team of local Grahamstown tailors who were tasked with stitching the clothes. From there, Dladla sourced a branding company.
Not long after, the first range of Africa 1st clothes was ready for distribution, including a variety of berets, caps, hoodies and T-shirts.
Demand for the label soon picked up, with Dladla adding golf and dashiki shirts to the range.
The unisex clothes are sold to both individuals and organisations.
"I always loved fashion. When I got to Rhodes in 2015, it was like I was in another country. Everything was Western – from the colonial buildings to the culture on campus. I came across people who are Xhosa, but cannot speak isiXhosa, Zulus who cannot speak isiZulu and so on.
"This to me was problematic. In my second year, I decided to establish Africa 1st, which aims to invade the clothing industry and disrupt the Western clothing lines. Our designs are unique and the texts we put on our clothes are purely African.
"We do not imitate other clothing lines. We have our own vibrant concepts, which entails using things that are exclusively found in Africa to bring our products to life.
"This ranges from languages to animals and plants found only in Africa, and we are also aiming to incorporate African heroes' pictures in our next stock."
He said demand for the range had been high since the official launch in July last year.
Already a national brand with orders coming in from as far as Cape Town and Johannesburg, Dladla said future plans included going international.
"People receive Africa 1st well and want more of it. This is evident from our sales rate. We sold 49 items in our first four months. We perceived this as a clear indication that there is a gap in the market which we are closing," he said, urging people to support local business.
"For African businesses to grow, people must start believing that Africans are capable of doing great things. We can come up with beautiful and quality clothes, just as I did. It's a myth that should be debunked that quality products are only from overseas." — zisandan@dispatch.co.za
Source: Daily Dispatch
Please help us to raise funds so that we can give all our students a chance to access online teaching and learning. Covid-19 has disrupted our students' education. Don't let the digital divide put their future at risk. Visit www.ru.ac.za/rucoronavirusgateway to donate